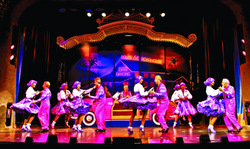 An Evening with Rita Moreno
Palm Springs, CA (Vocus) September 16, 2009
This fall, visitors are returning to Palm Springs to witness lavish productions, gorgeous costumes, diverse musical performances and star-studded film festivals. The 2009-2010 entertainment schedule will feature world-renowned guest stars taking the stage at the Fabulous Palm Springs Follies and Annenberg Theater.
Celebrating its 19th season, the Fabulous Palm Springs Follies, will raise the curtain for its newest edition entitled Let the Good Times Roll! opening October 28, 2009, and playing through May 16, 2010. With a cast in age from 56 to 86 years "young," the Broadway-caliber show features dancing and singing to music of the '40s, '50s and '60s. World-famous guest stars include Susan Anton, The Four Aces, Rita Coolidge, Mary Wilson and ventriloquist Brad Cummings with his prehistoric sidekick "Rex." For tickets and show information, visit http://www.psfollies.com
The Annenberg Theater, located in the Palm Springs Art Museum, has nearly two dozen performances for its 2009-2010 season. The season kicks off on November 7, 2009 with "An Evening with Rita Moreno," one of only eight individuals to have earned each of the major entertainment awards—an Oscar®, Grammy®, Emmy® and Tony®. Other musical performances include the internationally known singer Melissa Manchester, Shut Up, Sweet Charlotte, Menopause the Musical®, and Lynda Carter (widely known as "Wonder Woman") who reveals her talent for singing. For tickets and program information, visit http://www.annenbergtheater.org.
Every year, the Camelot Theater hosts several film festivals including Cinema Diverse, a gay and lesbian film festival scheduled for September 24-27, 2009. Upcoming film festivals include the star-studded Palm Springs International Film Festival held January 5-18, 2010 and Festival of Native Film & Culture slated for March 10-14, 2010.
The Palm Canyon Theater begins its 2009-2010 season on October 9, 2009 and plays through May 23, 2010, with seven performances including The Music Man, Oliver, A Chorus Line, and Miss Saigon.
With all the new theater attractions, Palm Springs is also making a splash in terms of modern hotel makeovers. Recent Palm Springs property renovations include affordably hip Palm Springs Travelodge and Holiday Inn Palm Springs City Center. Within the past year, the Riviera Resort & Spa and Ace Hotel and Swim Club have opened. The Hyatt Regency Suites Palm Springs is wrapping up a $15 million dollar transformation in October 2009, and a $20 million dollar conversion of the Wyndham Palm Springs will raise a new flag as the Renaissance Palm Springs Hotel at the Convention Center in March 2010.
Vacation packages and specials are available on the Palm Springs Bureau of Tourism website under "Hot Deals" at http://www.VisitPalmSprings.com.
###