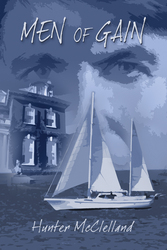 You recognize at the outset that the author has a passion for the subject, as well as talent and style that earn your trust. A must read!
Los Angeles, CA (PRWEB) September 16, 2009
Hunter McClelland's new psychological mystery novel "Men of Gain" (http://www.strategicbookpublishing.com) dramatizes the financial and psychological collapse of a hedge fund manager whose decisions costs his clients millions of dollars, when Wall Street undergoes its greatest meltdown in 80 years.
"I felt this story (http://www.strategicbookpublishing.com) needed to be told as a compassionate study of the personal and emotional life of a man," McClelland explains. "In today's society, men's emotions tend to be ignored. I wanted to trace the psychological evolution my protagonist Evan Tipton goes through when faced with a very stressful situation, where something goes very wrong in his life. When the U.S. financial crisis hit in September 2008, I realized that this was the perfect situation in which to explore men's nature.
"The book deals with several very timely and controversial issues, including malpractice, risky hedge fund investments, sub-prime mortgages and business ethics. I believe this story is unique, and I am unaware of any other novels dealing with the current financial crisis from this perspective. Men of Gain is meant to be enjoyed but also to promote discussion and insight into how this financial collapse was created. The main reason I write is to show the reality the financial disaster has played out with people, not just with the markets.
"In Men of Gain, Evan struggles personally and morally within the crucible of the financial world. However, the novel also explores whether this fund manager was guilty of unethical practices or was simply naïve as to what was going on all around him."
San Francisco banker and writer Roland Bianchi says, "You recognize at the outset that the author has a passion for the subject, as well as talent and style that earn your trust. A must read!"
Burlingame, CA doctor Dana Wemple declares, "With this first novel, Hunter McClelland presents an intelligent and perceptive view of current American culture, examining the value in numbers and in relationships. The characters take us on a compelling journey well worth reading."
And Berkeley, CA educator James Lippincott adds, "Evocative and warm, this page-turner explores the men and events contributing to the economic meltdown of the 21st Century. Magnificently narrated: a voice of the times."
About Author Hunter McClelland
Author Hunter McClelland was born and educated in Richmond, CA, earned a B.S. in psychology from University of California at Davis, and then undertook a nursing degree and a Ph.D. in physiology from Johns Hopkins University. She worked primarily as an operating-room nurse, and also taught nursing for 10 years at Stevenson University in Maryland. During her medical career, McClelland lectured and developed courses in pathophysiology and biology. Currently Hunter is working on her second novel, which deals with green technology and the auto industry.
Men of Gain
116-page paperback; $12.95
Published by Strategic Book Publishing
ISBN: 978-1-60860-068-7
Available at http://www.amazon.com, http://www.barnesandnoble.com and http://www.strategicbookpublishing.com and selected bookstores
# # #