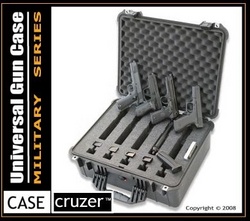 Montclair, CA (PRWEB) September 15, 2009
When handguns travel, they don't require fancy seats or refreshments. They need first-class protection from thieves, thoughtless baggage handlers and Murphy's Law - Anything that can go wrong, will go wrong. Collectors, sportsmen and law enforcement professionals can now hit the skyways and byways fully armed and completely at ease. CaseCruzer has them covered with the GunCruzer Universal 5-Pack Gun Case.
Government and military law enforcers who respect excellence will salute the Universal 5-Pack Gun Case. The base and top are soft on the inside, hard as nails on the outside. Polyethylene foam absorbs the blows of rough roads and turbulent air flights. When closed, the lid secures handguns with convoluted, egg-crate style foam. Civilians who travel to shooting ranges and gun shows will be equally pleased: prized collections can now be locked down in an indestructible yet lightweight vault. It's only 11.9 lbs when empty.
This field-tested carrying case can store up to five handguns and 10 magazines in custom-cut Polyethylene foam cavities. The gun cavity dimensions are 9.23"L x 4.75"H and welcome a wide range of name-brands: Colt, Sig Sauer, Smith & Wesson, Glock, H&K, XD, and STI International. Caliber sizes include: 9mm (or .380mm), 10mm, .40, .45, .38 Special, .357 Magnum and .44 Magnum. Foam plugs keep smaller handguns snug. There are also cutouts for optional desiccant, a hygroscopic substance that induces or sustains dry conditions - essential for handguns that must endure wild climate change.
These gun cases are designed with a trustworthy single folding front handle with a no-slip over-molded cushion grip. Ideal for on-the-go enthusiasts and law enforcement pros for whom fast deployment and mobility are the name of the game. The Universal 5-Pack Gun Case is available in black only: handguns don't like pretty; it draws attention.
The waterproof case is buoyant up to 69.9 lbs. It is also dust and sand proof, with an IP67 rating. Other certificates include MIL C-4150J and STANAG 4280. It also comes with an airline safe ATA 300 rating.
Weather conditions that are too hot or cold or just plain nasty are no concern: These Pelican cases shrug off temperature ranges of minus 10 to 210 degrees Fahrenheit. A soul mate for Homeland Security personnel with extreme oaths to uphold. A bragging rights bonanza for outdoor shooting range aficionados.
There are no guarantees in life - except for those who own the versatile and indestructible GunCruzer Universal 5-pack gun case. It's unconditional lifetime guarantee always comes along for the ride. CaseCruzer matches all things Pelican and adds another, intangible dimension. Call it Gung ho!
The CaseCruzer network of companies provides the community with the most comprehensive packaging solutions available on reusable carrying cases for applications such as Communications, Photography, Computers, Electronics, Weapons, Medical, Transportation and other industrial shipping and carrying case uses. For more info about the new Pelican case, visit http://www.casecruzer.com; call 800-882-4730 in the U.S. or 909-613-1999 internationally; fax 909-465-5598; or write to CaseCruzer at 4665 State Street, Montclair, CA 91763.
Tatiana Briceno
(909) 613-1999
(800) 882-4730
###