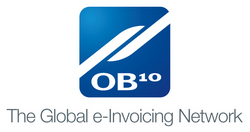 Exhibiting at this event provides us the opportunity to share with attendees the value we bring to the healthcare and hospital market
Atlanta, GA (PRWEB) September 17, 2009
OB10, the leading global e-Invoicing network, will exhibit at The World Health Care Congress 4th Annual Financial Management Congress in Chicago, September 21 - 23. As an exhibitor, OB10 will share with hospitals and other health care providers how it enables organizations to reduce costs and better manage cashflow by eliminating the paper-based exchange of invoices and other commercial documents through an open, non-intrusive and highly scalable network.
"Exhibiting at this event provides us the opportunity to share with attendees the value we bring to the healthcare and hospital market," said Thayer Stewart, Vice President, Marketing and Business Development - OB10. "By helping organizations streamline the delivery and receipt of invoices, we enable them to reduce costs, better manage cashflow and gain greater visibility into their Accounts Payable processes."
The value OB10 brings to the healthcare and hospital market can be seen in the relationship established with Memorial Hermann Healthcare System, the largest hospital system in Texas, serving the greater Houston community through 11 hospitals as well as many specialty programs and services. To illustrate its collaboration with OB10, Memorial Hermann will share details around the successful reconfiguration of its AP processes during the conference's Leadership Summit on Tuesday, September 22. Donald Sands, Director of System, Accounts Payable and Daron Whisman, Director of Finance - Supply Chain, Memorial Hermann, will offer Driving Financial Returns with e-Invoicing: The Experience of Memorial Hermann Healthcare System.
# # #