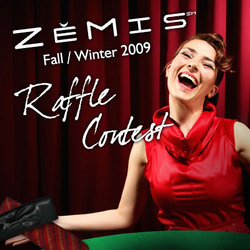 Fabulous designer accessories are up for grabs. Every fashionista would love to covet our first prize - Christian Louboutin's signature Mini Aoinoeud evening bag.
New York, NY, (PRWEB) September 16, 2009
Zemis, which specializes in selling unique world products as gift ideas for every occasion, is excited to announce its first raffle contest to promote its Fall/Winter 2009 handbag and fashion jewelry collection.
Zemis Managing Director is very excited to announce, "Fabulous designer accessories are up for grabs. Every fashionista would love to covet our first prize - Christian Louboutin's signature Mini Aoinoeud evening bag." For 2nd prize, something for the men - a Lancel neck tie. 3rd prize is Zemis' 'Spinning Disks Neckpiece', a handcrafted neckpiece made of individually sewn metal studs. Ten minor prizes from Zemis' Fall 2009 costume jewelry collection will also be given away. Zemis' will give away a variety of fashion forward cuffs and bangles, funky rings, trendy earrings and opulent neckpieces from its four series entitled ASEAN Agenda, Sweet Safari, I Goth you and Femme Frivolity. Zemis plans to raffle off its Skin Dyed Bangle made from discarded pig skin and feathers, Banana Bangle Sunrise made from banana bark, Leopard Warning Necklace made from various sea shells hand applied on acrylic, We Cuff made from snake skin, World is an Oyster Metal Cuff made from Black Tigerlip Mother of Pearl oyster shell, Evil Eye Ring, Pear Drop Earrings, Color of Winter Necklace, Tiger Attack Bangle and Green Skin Choker.
The raffle contest will run from September 1 to October 15, 2009. Zemis/World Charms customers who purchase Fall 2009 products are automatically entered into the raffle. There is no need to join or sign up separately for the contest. Winners shall be announced before October 31, 2009 and prizes shall be delivered free of charge before November 30, 2009. Details and mechanics of the online raffle promotion may be viewed at http://www.zemis.com/info/Fall_Winter_Raffle.
For its Autumn/Winter 2009 collection, Zemis is showcasing four unique themes representing the latest trends for the season. The first is ASEAN Agenda which features eco-friendly materials in artfully crafted bangle and bag designs from the Southeast Asian region. Second is the Sweet Safari series which echoes African safari expedition style of fashion but made from 'sweet' natural components such as coconut shells and oyster shells and other natural stones. As a bit of departure from the first two, Zemis is also launching its rocker chic collection called 'I Goth You' which embodies gothic but elegant fashion style made largely from the same natural shells and stones used in ASEAN Agenda and Sweet Safari series but this time, whimsically but sophisticatedly blended with metal and resin. Femme Frivolity is the fourth theme that completes Zemis' Fall 2009 collection. Femme Frivolity is all about exquisite hand sewn and handmade necklaces, bracelets and earrings. Each piece is a pretty work of art.
The entire Fall 2009 accessories collection is handmade and primarily composed of indigenous, natural and eco-sustainable materials. Almost all of the products are Go Green Certified. Zemis is donating a portion of the sales proceeds to the Go Green Philippines Foundation, the main goal of which is to achieve sustainability of the natural materials used in the products sold. Zemis aims to showcase fashion forward handbags, costume jewelry and other designer accessories using eco-ethical standards. Zemis officially launched its Fall/Winter 2009 fashion collection earlier this month.
Zemis, an online specialty department store, can be accessed on the web at http://www.zemis.com. The old site, worldcharms.com will continue to exist and sell the same products as Zemis. The raffle contest and its mechanics will also apply to World Charms customers. Zemis sells world culture gift products sourced from around the world, and plans to deliver them to any doorstep on Earth. It aims to promote awareness and understanding of various cultures, histories and religions by allowing its customers to send gifts from different parts of the globe to someone they care about.
Zemis searches the world for hard-to-find, truly unique, fun, and useful gifts and supports the artisans, craftsmen, tribal groups, and cottage industries behind them. It currently offers products such as artisan artwork, handcrafted costume jewelry, organic toys, natural bed and bath products and other eco-crafts. In addition, Zemis sells music from various cultures, including East African, Gypsy, Bollywood and even Mongolian folk tunes as well as a comprehensive selection of both popular and hard to find world cinema or foreign language DVD's such as Best Picture winner Slumdog Millionaire; Diving Bell and the Butterfly, Amelie, Like Water For Chocolate as well as Departures from Japan, this year's winner for Best Foreign Language film at the Oscars 2008 Academy Awards. Films that promote the Global Village trend such as The Visitor are also available at the best prices online.
This year, Zemis joined Madison and Mulholland's Ultimate Nominee gift bag given to Oscar nominees and presenters and other prominent actresses including Kate Winslet, Penelope Cruz, Meryl Streep, Amy Adams, Jennifer Aniston, Sarah Jessica Parker, Reese Witherspoon, Cate Blanchett, Eva Mendes and Scarlett Johansson. The eco-friendly online store also participated in the pre-Oscars HAVEN house 3-day swag/entertainment event held in Beverly Hills where preview products from its Fall 2009 collection were displayed and given away to Hollywood insiders such as Paula Abdul, Barry Bostwick, James Denton, Dustin Lance Black, among others.
Zemis will also expand its marketing reach to Southeast Asia this summer to address the growing appetite for earth-friendly and handmade products from that region.
Zemis utilizes Amazon's e-commerce technology in order to provide Zemis guests a safe, secure, and convenient online shopping experience. Transaction processing for Zemis is handled by Amazon so buyers can use their Amazon.com account to order and checkout.
ABOUT ZEMIS
Zemis is owned by Zemis Ltd, which is an affiliate of World Charms (USA) LLC, a private Delaware LLC. Zemis has teamed up with Amazon.com and licenses its shopping cart software for its reliability and cutting edge features. Inquiries on Zemis or World Charms may be directed to marketing(at)zemis(dot)com.
Zemis
Shop the world over
http://www.zemis.com
# # #