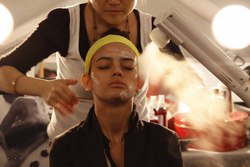 New York, NY (PRWEB) September 16, 2009
Cygalle Dias, founder of Cygalle Healing Spa, was backstage this Fashion Week with her new line of natural and organic facial products giving mini, non-evasive facials to Charlotte Ronson's models to prepare their skin for make-up application. The gentle facials created a glowing canvas, allowing for the make-up artists to fully execute Ronson's vision for the show.
The holistic mini-facials included the following protocols:

All backstage make-up removal was done with Organic Chamomile Make-up Remover whose purified Spring Water base is pH balanced at 5.5 to avoid irritation or stinging while removing all excess product to reveal a natural foundation.
Next was cleansing with Honey Oatmeal Cleansing Crème to moisturize and promote elasticity without leaving an oily residue.
Their skin was then polished with the Cranberry Antioxidant Toner with cranberry juice and biocomplex vitamin C to enhance texture and appearance.
Cygalle Dias's signature Raspberry Q10 Moisturizer, which contains Cranberry Extract, Amazonian Butter, BioActive Anti-Oxidants, Omega 3 and 6, and Vitamins C and E, further revitalized their skin. It also deters free radicals and combats signs of aging.
Finally, Gold Leaf Intensive Eye Treatment was used to hydrate and smooth fine lines around the eyes and lips.
The resulting skin was a flawless, smooth canvas whose texture and appearance has been maximized to its full natural potential.
Models, photographers, editors and the designer were all thrilled to find this innovative pre-runway treatment backstage noting that they'd never seen anything like it before. One model commented how "amazing", "generous" and "thoughtful" the facials were. Front row celebrities, including Nikki Hilton and Russell Simmons, already looked flawless for the paparazzi but requested that Cygalle send them samples of her Charlotte Ronson mini-facial kit which is now available online at the Cygalle Healing Spa store.
Charlotte Ronson and Cygalle Dias have worked together for many seasons, but this one was unique with the debut of the new mini-facial. Cygalle's new men's and women's gourmet skincare includes organic cleansers, toners, serums, masques, moisturizers, and shaving crème. All products are formulated to create a sensory journey and feature certified organic ingredients such as peppermint leaf, marshmallow root extract, lavender oil, green tea, sweet orange oil, grapefruit oil, rose oil, and safflower oil. Only the purest ingredients are used to pamper and heal our clients and each product is made upon order, ensuring the treatment's freshness and potency.
Products can be purchased directly through the Cygalle Healing Spa Web store at http://www.cygallehealingspastore.com. Images from backstage can be viewed at http://tinyurl.com/n7qj93.
ABOUT CYGALLE HEALING SPA
Cygalle Healing Spa is committed to wholeness and purity, and to creating a new possibility of living in fast-pasted urban environments by featuring a holistic environment that is earth friendly and non-toxic. Cygalle Healing Spa was launched as a mobile spa concept in 2006, and gained notoriety by pampering celebrities such as Helena Christensen, David Blaine and Rosario Dawson. Cygalle Dias, the founder and CEO, has been in the fashion, beauty, and marketing arena for twenty years. Her vision with the spas is to promote a healing environment that further transcends into a client's daily lifestyle. For more information, please visit: http://www.cygallehealingspa.com.
# # #