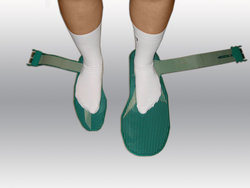 Boston, MA (PRWEB) September 16, 2009
Tekscan is pleased to introduce the F-Scan XL sensor, model 3005E, for use with large feet. The F-Scan XL sensor has a sensing region measuring up to 15.4" x 6.0" (Mondo 390/150), equivalent to a men's US shoe size 24E, and as many as 1,848 sensing elements per foot. It can be used along with the F-Scan VersaTek system to enhance performance and measure the effectiveness of rehabilitation in professional athletes with large feet, clinically treat patients with large feet and foot problems, or design footwear in larger sizes. The F-Scan VersaTek system is an in-shoe pressure mapping system that uses extremely thin, high resolution pressure sensing in-soles to collect objective and quantifiable data unseen by the naked eye.
Using the F-Scan XL sensor in conjunction with the F-Scan VersaTek system, the entire extra large foot can be properly observed during analysis and used to:
● Enhance athletic performance
● Measure effectiveness of rehabilitation
● Analyze foot function and gait
● Confirm orthotic efficacy
● Assess footwear design
● Analyze biomechanical parameters
● Assess pre- and post-surgical outcomes
The size of the F-Scan XL sensor makes it an ideal tool for trainers to use with professional athletes such as basketball or football players. Gait abnormalities, foot injuries, overuse injuries, and musculoskeletal pain, especially in the lower extremities, are common problems seen with the athletic patient. The F-Scan VersaTek system in combination with the F-Scan XL sensor will help identify these problems and provide data that can be used for rehabilitative purposes to improve biomechanics or manage injuries. The end result is improved athletic performance and thus, a more effective and pain-free patient.
With the F-Scan VersaTek system, the clinician will not only achieve treatment success, but will also see a return on their investment. Use of the F-Scan VersaTek reduces the need for continuous follow-up appointments and adjustments and thus, greater profitability. Fewer return visits also improves patient satisfaction - which results in more referrals. The F-Scan VersaTek also provides supporting documentation for either the fee-for-service approach or insurance claims.
For shoe manufacturers designing footwear in large sizes, the F-Scan XL sensor will capture dynamic plantar pressure information essential to the assessment of footwear design. It will pinpoint high pressure areas to determine the relationship between the foot and the shoe construction.
Tekscan's pressure mapping systems are used by prominent universities, hospitals, rehabilitation facilities, and corporations around the world to measure pressure in a variety of applications. For more information on Tekscan or the new F-Scan XL sensor, visit our website or contact us directly.
###