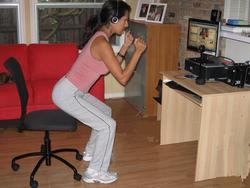 There is a huge intimidation factor for a lot of people who have never been to a gym before—especially if you are doing this by yourself
Dallas, TX (Vocus) September 16, 2009
Having worked in health clubs for a number of years, Lawson noticed that the people who really needed to be there weren't. "There is a huge intimidation factor for a lot of people who have never been to a gym before—especially if you are doing this by yourself," said Jean Lawson creator of trainwithjean.com. As a result, trainwithjean.com was developed to give consumers an easy and convenient alternative to the traditional gyms. "Most fitness chains are banking on the fact that you will come to the gym for the first few weeks and then stop, but continue to pay for your membership."
Trainwithjean.com offers consumers the convenience of working out from the home or office. Each client is immediately introduced to a virtual personal trainer. During their introduction session, a client will be asked a series of health questions ranging from past and present injuries, medications, food allergies, and current level of fitness is established. Each 30 minute session is $15.
The conditioned person can also reap the benefits of trainwithjean.com. Corbin Lawson, Men's Journal Pick for Top 100 Trainers in America, states that the athletic client will receive a challenging routine. "For a person that is too busy to make it to the gym 5 days a week, you can log on and train with us from your office or home. Most people who train regularly own fitness equipment, so by all means, use it during your session with us," states Mr. Lawson. Lawson has 17 years in the fitness industry, and is adamant about education to provide a quality trainer to clients.
Leticia Dominguez who is a client of trainwithjean.com and also a member of a corporate gym, stated that she could not afford the services of a trainer after paying for the membership, enrollment fee, and administrative fee. As a consequence, her results weren't coming as fast as she had hoped. "It's like buying a car and now you can't afford to buy the gas—now what do you do." The services of trainers for most corporate gyms are usually $65 per session on up. "Unfortunately, a person can't learn everything that they need to in just one session. That is why I went to trainwithjean.com because I can afford her services, and she has emailed me an exercise prescription that I can use at the gym," said Dominguez.
Training in front of the computer is an easy and practical alternative. Carlos Garcia, virtual trainer, states that with real-time video streaming this will eventually end the days of just popping in a video and following along. "What makes this concept so unique is that we can see you and correct your form—an exercise video can't do that."
Diana Guerrero, virtual trainer, also commented on the conditions of present day health clubs by stating that most of the equipment is not that user friendly. Without the knowledge of using the equipment properly, even something as simple as setting the right seat position for your height is essential if one wants to achieve results without injury. "Obviously, that is not a concern when you are training with us on-line," stated Diana, "Esperamos verlo pronto!"
Because of the advances in technology over the last 5 years, video streaming continues to evolve. The only thing that is needed to participate in a live virtual training session is a computer, web camera, microphone (which most web cams have) and download the latest version of Java which can be done for free at http://www.java.com/en/download/index.jsp * Please make sure to email Jean if you are ready to set up your complimentary evaluation which can be done in English or Spanish.
At trainwithjean.com your trainer is just a click away.
####