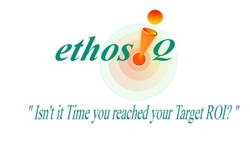 ethosIQ is an exciting new company looking to really help customers get the most out of their IVR investments. The flexibility of the Prophecy platform is a great fit with ethosIQ's mission. We are looking forward to working with the team
Houston, TX (PRWEB) September 16, 2009
ethosIQ strengthens its solutions portfolio by partnering with Voxeo Corporation, a leading provider of IVR, VoIP and unified communications solutions. According to Scott Walker, ethosIQ CEO, "This partnership is key to the strategy and direction of ethosIQ. Voxeo truly embraces open standards. Other existing technology companies use the terms loosely at best. Voxeo's Unlocked Communications™ platform allows ethosIQ to create interoperable and affordable solutions for our clients. By coupling Voxeo's market leading technology with ethosIQ's optimization services, we can offer customers a best in class solution."
ethosIQ leverages call path analytics to deliver routing and agent optimization for contact centers. Contact source data is captured and then analyzed using mathematical algorithms. This process yields actionable recommendations on how to reduce operations costs by optimizing routing and agent behavior. Voxeo's openness and standards-based solutions provide easy access to the data that is scrutinized for routing optimization, while not locking customers in to proprietary solutions.
Regarded as the fastest growing voice platform company, Voxeo was the first to offer support for the VoiceXML and Call Control XML (CCXML) standards, the first to offer SIP VoIP, and the first to offer the same platform on-demand or on-premise, enabling enterprises to quickly build and deliver IVR self-service and communications applications. Last month, Voxeo announced the early release version of Prophecy 10, its flagship Unlocked Communications platform. Prophecy 10 enables any enterprise or service provider to create and manage unified communications and self-service applications integrating voice, SMS, instant messaging, video, mobile web, and web chat all within a single application.
"ethosIQ is an exciting new company looking to really help customers get the most out of their IVR investments. The flexibility of the Prophecy platform is a great fit with ethosIQ's mission. We are looking forward to working with the team," said John Amein, Senior Vice President of Strategic Partnerships.
About ethosIQ, LLC: We are a business solutions provider that assists customers in navigating the complexity of large scale contact centers. ethosIQ optimization services, managed services, and enhanced reporting tools provide customers the ability to maximize their return on investment (ROI) of existing communications platforms. To learn more about ethosIQ, please visit http://www.ethosIQ.com, or call 1.888.ethosIQ.
About Voxeo: Voxeo unlocks communications. We loathe the locks that make voice, SMS, instant messaging, Twitter, web chat, and mobile web unified communication and self-service applications difficult to create, manage, analyze, optimize and afford. Every day we work to unlock the neglected value of these communications solutions with open standards, disruptive innovation and a passion for problem solving--fueled by a company-wide obsession with customer success. We do so for more than 100,000 developers, 45,000 companies and half of the Fortune 100 from our headquarters in Orlando, Beijing, Cologne, and London. Visit us or join our conversations on the web at http://www.voxeo.com, blogs.voxeo.com, or twitter.com/voxeo.
# # #