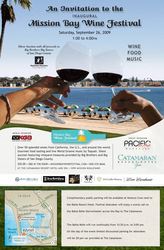 SAN DIEGO, California (PRWEB) September 16, 2009
The First Mission Bay Wine Festival celebrates ripe bacciferous fruits of the fall. Excellent wines, unique and wonderful foods, and intimate jazz will consume the gracious rim of Mission Bay. The Catamaran Resort Hotel and Spa hosts this exquisite autumn afternoon on Saturday, September 26th.
The festival on the Bay features premium wine tasting from 50 of the best growing areas of Napa Valley, Sonoma, Temecula, Oregon, Washington State, France, New Zealand and Italy.
The event is from 1:00 to 4:00 pm and includes a sumptuous menu of food pairings. Featuring Gourmet Sausage samplings from Jodi Moroni, Gourmet Cheese Samplings from Winchester Cheese Company, the Temecula Olive Oil Company, creative spagonian inspired pizza from Jakes Wood Fired Pizza, a Slider Station with pulled pork and Italian meatball marinara, passed Hors d'oeuvres and a savory Chocolate Fountain.
A very special part of the event is Big Brothers Big Sisters' silent auction with all auction proceeds benefiting Big Brothers Big Sisters' of San Diego County. The nation's leading youth mentoring organization, who help local children, reach their full potential.
Complimentary public parking will be available at Ventura Cove next to the Bahia Resort Hotel festival attendees will enjoy a scenic sail on the Bahia Belle Sternwheeler across the Bay to The Catamaran. The Bahia Belle will run continually from 12:30 p.m. to 5:00 pm. On the day of the event limited discounted parking for attendees will be $8 per car provided at The Catamaran.
Mission Bay Wine Festival tickets are $55 in advance and $60 at the door. World Groove music by Toquali and San Diego's Classic Rock Station, 101 KGB will be on site during the festival.
Distributors include Southern Wine & Spirits, Young's Market Company, Pacific Wine and Spirits, Lions Wines, E. & J. Gallo Winery, Wine Warehouse, Winchester Cheese Company, and Moroni Sausage.
Hosted by Pacific Magazine, 101 KGB and The Catamaran Resort Hotel and Spa. Tickets may be purchased from The Catamaran Gift Shop and online. For more information call 858-539-8666 or visit http://www.missionbaywinefestival.com
###
The Catamaran Resort Hotel and Spa offers a Polynesian casual elegance and is impeccably located on the beaches of Mission Bay and steps from the Pacific Ocean. The Catamaran is owned and operated by Evans Hotels, including the Bahia Resort Hotel on Mission Bay and The Lodge at Torrey Pines in La Jolla.