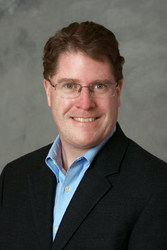 Becoming aware of the news is not the issue for IT professionals today
Louisville, KY (PRWEB) September 16, 2009
In a substantial move that benefits business IT decision makers, IT Business Edge announced that award-winning journalist Michael Vizard has joined the fast-growing site as its newest blogger. Vizard's new "IT Unmasked" blog covers issues related to the business value of innovation, providing strategic insight, analysis and projected real-world impact for the estimated 650,000 IT decision makers that frequent the IT Business Edge site.
"Becoming aware of the news is not the issue for IT professionals today," said Vizard. "There are hundreds of ways that news is distributed, starting with the streaming feeds created by each vendor. With the news becoming a commodity, IT professionals need someone to help them triage, decipher and put into context the IT events of the day."
"IT Unmasked" can be read daily at http://www.itbusinessedge.com/cm/blogs/vizard.
Vizard joins an established group of IT experts who analyze business issues and technology trends to help readers cut through information clutter, identify useful strategies and assess relevance to their business needs. IT Business Edge is a leading professional community for business technology decision makers that provides analysis, collaborative tools, and white papers they can use to make smart investments and run their companies more efficiently. Community members can also interact with each other and IT Business Edge editors, as well as access and contribute to high-value business documents and IT-focused wikis.
"IT Business Edge is one of the few technology media outlets solely focused on business issues, and our singular focus attracts some of the brightest minds in IT today," said Phil Branon, president, IT Business Edge. "We stay squarely focused on the information needs of senior IT leaders and business unit managers - providing perspective and cutting through the hype -- and we are pleased to add Mike Vizard as yet another experienced, strategic voice to serve our community."
About Michael Vizard
Vizard brings more than 24 years of experience with leading enterprise-technology publications to IT Business Edge readers. For the past three and a half years, Vizard served as a senior vice president and editorial director for Ziff Davis Enterprise, where he was responsible for oversight of all enterprise IT content generated across the company's enterprise print, online and event platforms. While at Ziff Davis Enterprise, he wrote the popular "Masked Intentions" blog, spoke at top tier events around the country, and provided IT commentary in major business publications, online and on television.
Vizard previously served as editor-in-chief of Computer Reseller News (CRN), and prior to that spent seven years as editor-in-chief of InfoWorld Media Group, where he was responsible for the day-to-day editorial management of InfoWorld's staff and the content direction of InfoWorld Online. His rich background also included work at PC Week (now eWeek), Computerworld, Digital Review and Electronic Buyers News. Vizard holds a degree in Journalism from Boston University
About IT Business Edge
Published by Louisville-based NarrowCast Group, LLC, IT Business Edge delivers an intelligent approach to business technology information that is focused, personalized, thorough, practical, concise and current. The site allows technology decision makers to gain up-to-the-minute analysis of evolving issues and strategies, solve problems with the help of peers and industry experts, and choose cost-effective approaches for their business IT needs. IT Business Edge combines expert opinion and research culled from more than 3,000 sources (technology publishers, vendors, analysts and associations) with a moderated professional community of business IT decision makers. To join the IT Business Edge community, visit http://www.itbusinessedge.com.
###