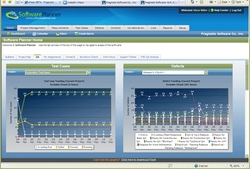 We are excited to have Software Planner join the AutomatedQA family of outstanding quality assurance products
Beverly, MA (PRWEB) September 17, 2009
AutomatedQA purchased Pragmatic Software Company, makers of Software Planner an award-winning Application Lifecycle Management (ALM) tool. This important milestone signals the company's ability to provide a complete offering for managing the entire software lifecycle from design to development to deployment.
Software Planner helps software firms manage all components of software development including managing customer requirements, project deliverables, test cases, defects, and support tickets. Coupled with collaborative tools like document sharing, team calendars, interactive dashboards, knowledge bases and threaded discussions, Software Planner improves team communication and cohesion.
AutomatedQA delivers products for software development and quality assurance. The company offers the award winning TestComplete, the industry's most affordable, yet comprehensive automated testing product for web and Windows environments. AutomatedQA also offers AQtime, an application performance profiler, and Automated Build Studio, an automated build management tool.
"For too long, Application Lifecycle Management and automated testing has been out of reach for all but the biggest software development organizations", says Derek Langone, President of AutomatedQA. "The addition of the Software Planner product suite lowers the barriers to entry of cost and complexity, so every software developer, regardless of size, can leverage the immediate advantages of ALM".
Steve Miller, President/CEO of Pragmatic Software joins AutomatedQA as Vice President of ALM Solutions. "We are excited to have Software Planner join the AutomatedQA family of outstanding quality assurance products," says Miller. "Integrating manual testing and test automation into a comprehensive software lifecycle solution will allow our clients to succeed with their software development efforts while empowering teams to become more lean and productive."
About AutomatedQA
AutomatedQA has been making award-winning software products for quality assurance and software development projects worldwide since 1999. AutomatedQA's flagship product is TestComplete, the automated software testing solution that's easy to use and affordable for any size team. TestComplete automates and accelerates software tests for all Windows software, including Web, .NET, Java, Windows Desktop, Flash/Flex, Ajax and Silverlight. TestComplete's unified interface enables testers to learn one product and automate the full range of test types including functional testing, load testing, distributed client/server testing and unit testing.
###