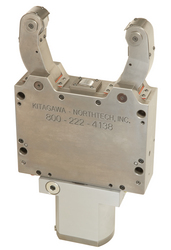 Steady Rests is a product category that we have needed to offer our customers for a long time. Now we can truly be a single source supplier of workholding components for lathes and turning centers
Schamuburg, IL (PRWEB) September 22, 2009
Kitagawa-NorthTech has added a complete line of Steady Rests to their product group. "Steady Rests is a product category that we have needed to offer our customers for a long time. Now we can truly be a single source supplier of workholding components for lathes and turning centers," stated Bill Graham, Kitagawa-NorthTech marketing manager. Graham continued by stating this new line of Kitagawa-NorthTech Steady Rests are compatible in sizes and performance to the current industry leader, but are priced 10~15% less, depending on the model and size.
The new line of Steady Rests is self-centering thus eliminating the need for manual adjustment. Models can be specified with either hydraulic or pneumatic actuation. Replaceable seal strips prevent dirt and coolant from entering the steady rest body. An air line can be routed to the body in order to create an air cleaning circuit. This positive pressure minimizes egress of coolant and chips for minimizing maintenance and ensuring long production use. Automatic lubrication systems are also available to deliver consistent lubrication for maximizing roller and cam arm life.
Models range in bar clamping capacity from .157" to 36" and six different series provide solutions with pivotal arm for vertical loading to compact models featuring side-mounted cylinders, and for application ranging from standard turning operations to cam milling with vertical loading and grinding
For complete details, contact Kitagawa-NorthTech, Inc., 301 E. Commerce Drive, Schaumburg, IL 60173; 800-222-4138
About Kitagawa-NorthTech
Kitagawa-NorthTech is a world leader in providing workholding solutions for lathes and turning centers. Their complete line of products includes the industry standard B200 series as well as engineered custom workholding solutions. Kitagawa-NorthTech has expert engineers on staff to support customers through design and implementation of workholding solutions for all applications.
###