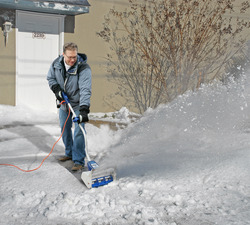 Our previous Web site did a great job of focusing on our snow products, but Snow Joe is evolving to offer products that cover every outdoor need
Edison, N.J. (PRWEB) September 16, 2009
Snow Joe® has launched its new Web site, designed to help consumers "Get Equipped" for their outdoor home maintenance needs. With increased product detail, enhanced interactive features, a robust customer service section and expert tips for homeowners, http://www.snowjoe.com will provide consumers with guidance to make taking care of their outdoor needs easier than ever.
The new Snow Joe site better reflects the evolving product offerings of the company. While it was once known only for its smart winter solutions and electric and gas powered snow throwers sold under the "Snow Joe" brand, the company now offers a wide range of outdoor power products, including lawn mowers, trimmers and tillers under its "Sun Joe" brand.
"Our previous Web site did a great job of focusing on our snow products, but Snow Joe is evolving to offer products that cover every outdoor need," commented Joseph Cohen, CEO of the Snow Joe company. "Our new site features our lawn care products as well as snow products, and also offers tips and advice that will ultimately help consumers make the most of their outdoor spaces."
A blog on the site will launch next week and will feature advice from home and garden experts. In addition to "how to" columns, the experts will provide video guides for homeowners looking for help tackling everyday outdoor projects. To encourage interaction, visitors who post comments on the blog will be periodically awarded gift certificates for Snow Joe products.
For more information, visit http://www.snowjoe.com.
About Snow Joe
The Snow Joe® company develops and manufactures innovative high-quality outdoor products at a lower price to help consumers "Get Equipped" to tackle the great outdoors. Originally founded to bring homeowners smart winter solutions, the company now distributes a wide range of easy-to-operate, reliable and powerful outdoor power equipment to handle snow removal and yard care - from snow throwers and lawn mowers to trimmers and cultivators - under its "Snow Joe" and "Sun Joe" brand names. The Snow Joe company operates and maintains its own manufacturing facility overseas with corporate headquarters in Edison, N.J.
# # #