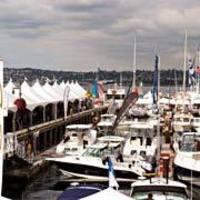 Seattle, WA (PRWEB) September 16, 2009
Seattle's Lake Union Boats Afloat Show (http://www.BoatsAfloatShow.com) is set to get underway today, Wednesday September 16 at 10 a.m. and runs through Sunday, September 20. It is open from 10 a.m. to 6 p.m. daily. The annual show is recognized as West Coast's largest floating show. In its 32 years it has consistently delighted showgoers because there's always something for everyone, from the first-time boat buyer to those looking to trade up, or for those simply dreaming about some day in the future. This year the smallest boat in the show is an eight foot inflatable dinghy, a 'boat in a bag' that can roll up and fit in a carry bag, and the largest is 143 feet. There will be four fabulous mega yachts over 100 feet in length. Even those not in the market for a luxury yachts are invited to come stroll the docks, board the vessels, ooh and ahh and dream a little. Or get introduced to the joys of boating by taking a 45-minute free sailboat ride.
The collection of 100 foot yachts includes:
•The Devotion. At 143 feet she is the largest boat in the show. The Devotion is set up to accommodate 12 guests and eight crew. The brand new interior reflects European styling. Exquisite Brazilian hardwoods and Italian marble surfaces abound complemented by designer fabrics. Get a preview at: http://www.charterdevotion.com
•Isabella, 118' Westport/Shaw Motoryacht. The "Isabella" boasts water jet cut marble floors with complementary marble baseboards on the foyer and pecan and ash cabinetry throughout the staterooms. Her 'yacht toys' include two SeaDoo wave runners and three Yamaha motor scooters with covers
•The Hotei, a 115' custom designed yacht, known for entertaining the world's dignitaries including Princess Diana and Prince Charles, Mikhail Gorbachev, Sidney Poitier and Eva Gabor. The kitchen has the ability to serve up to 75 guests for dinner and the master stateroom is decorated in a beautiful Chinese motif.
•Just delivered and so new it has that new boat smell! The SeaVenture, a 100' Hargrave Skylounge Motoryacht has custom-designed, over-sized windows for increased visibility to enhance the scenery-watching. Or you can view the scenery from the comfort of the 6-person Jacuzzi on the sky bridge!
Other attractions at the show this year include:
•Tours of the Sea Star from the Emmy Award nominated television series Deadliest Catch.
Climb the ladder to the wheelhouse. Walk the deck where fortunes were made, where strong men were reduced to tears, where men struggled beyond exhaustion to stay alive. Tours led by the cast and crew of Deadliest Catch. Tours are just $1.
•Free daily 45-minute sailboat rides on Lake Union on 30-40 foot boats through Discover Sailing.
•Free 90-minute sailing lessons for kids 8-16 on 14' Hobie Cat Waves courtesy of Sail Sandpoint (http://www.sailsandpoint.org) .
After a 30-minute briefing, groups of 3-4 kids will take the boats out on the lake by themselves. An instructor will be alongside in a powerboat. Lifejackets provided. Kids should come prepared to get wet!
Lessons will be at 11am, 1pm, 3pm on Saturday and Sunday. Weekdays at 4pm.
For further information or to sign up go to: http://www.boatsafloatshow.com (Pending availability sign-ups will also be available at the show.)
•Free rides on Lake Union on the electric water taxi.
•A $25 gift card good at Daniel's Broiler or Chandler's Crabhouse if you purchase your ticket online.
•Enter to win a 9 foot, 4-passenger SB-275 Sportboat dinghy from West Marine. (Retail value = $999)
What: Lake Union Boats Afloat Show
When: Wednesday, Sept. 16 - Sunday, Sept. 20 (10 a.m. to 6 p.m. daily)
Where: South Lake Union in Seattle
Tickets: $12 for adults / $5 for kids under 18 (kids under 12 are free).
$18 for multi-day pass.
Receive a free ride on the Seattle Streetcar and a $25 gift card good at Daniel's Broiler or Chandler's Crabhouse with an e-Ticket purchase at http://www.BoatsAfloatShow.com
Getting There: Limited parking lots near the show. For convenience park downtown and take the Seattle Street Car directly the show on South Lake Union.
Photos available at: http://www.boatsafloatshow.com/gallery.htm
###