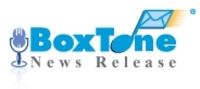 We are pleased to offer customers of all sizes a solution that delivers significant value and a substantial return on investment (ROI).
Toronto, ON (Vocus) September 16, 2009
BoxTone(R), the expert in mobile user management, and Empowered Networks(R), Canada's leading integrator of proven solutions for IT management, testing and synchronization, today announced a new partnership to deliver BoxTone's best-in-class solutions to new and existing customers across Canada.
Empowered will market, sell, install and support the award-winning BoxTone for BlackBerry(R) software platform to enterprise and government accounts across Canada, helping them monitor, manage and support services delivered to internal BlackBerry(R) users. The companies will jointly host a webinar on Tuesday, September 29th to introduce the BoxTone solution and new partnership to Canadian customers and contacts.
"From the very beginning, Canada's best-known companies and government agencies have embraced our software to manage and monitor their BlackBerry platforms," said Alan Snyder, CEO, BoxTone. "We're delighted that Empowered will now add BoxTone software to its proven technical and sales expertise for mobile devices, infrastructure, and IT service management for the benefit of our joint Canadian clients."
"The BoxTone solution is best-in-class, with an impressive track record, global client base, and extremely high customer satisfaction and renewal rates," said Brian Hepburn, CEO of Empowered Networks. "We are pleased to offer customers of all sizes a solution that delivers significant value and a substantial return on investment (ROI)."
BoxTone offers organizations a complete, multi-tiered mobile support approach to deliver highly reliable mobility service at the lowest cost. Benefits include reduction in costly incidents and service desk calls by 30%-40%; reduction in mobile incident mean time to repair (MTTR) by 70-80%; reduction in service desk to IT escalations by 70-80%; and recovery of 3-8% in costs from under-utilized devices. Deployable in hours, the web-based, agent-less, SmartMP(TM) software platform provides IT support staff with end-to-end visibility to proactively monitor mobile user and platform health, and identify issues and risks.
BoxTone Essentials – the core monitoring and management package - starts at under US$10,000 for up to 500 BlackBerry users. Combined with other BoxTone modules – for User Self-Service, Service Desk Management, Problem Management and Asset, Expense and Compliance Management – organizations can reduce total mobility costs by one third.
"Harden Your BlackBerry Platform with BoxTone & Empowered" will take place Tuesday, September 29th at 11:00am EDT. To learn more from the experts in Mobile User Management, register for this webinar now at http://smart.boxtone.com/forms/EmpoweredWebinarRegistration.
About Empowered Networks
Empowered Networks provides proven, comprehensive solutions for IT management, network technology testing, and precise timing and synchronization. Empowered combines flexible open solutions from trusted partners with a comprehensive family of EmpoweredServices™ to address priority needs, and leverage and enable existing investments in tools and processes. Empowered has earned the trust of many leading organizations in Canada by implementing modular, high value solutions for over 300 customers, including Canada's leading IT-dependent enterprises, communication and IT service providers, and network equipment manufacturers. A privately-held Canadian company headquartered in Toronto, Empowered has team members in Moncton, Montréal, Ottawa, Toronto, Waterloo, Calgary and Vancouver. For more, please visit http://www.empowerednetworks.com, or call 1.800.379.0633.
About BoxTone
BoxTone software is trusted by more than 230 of the world's leading enterprises and government agencies, including 65 in the Global 2000, to manage, monitor and support their BlackBerry platforms. Built on patented SmartMP technology and conforming to industry standard ITIL best practices, BoxTone's modular platform and role-specific consoles enable IT and services organizations to proactively improve mobile performance, reduce support costs and accommodate rapid device growth, all while guaranteeing the high quality of service that mobile users demand. Learn more from the expert in mobile user management at http://www.boxtone.com, or call 1.410.910.3344.
BoxTone and the BoxTone logo are trademarks of BoxTone, Inc. The BlackBerry and RIM families of related marks, images and symbols are the exclusive properties and trademarks of Research In Motion Limited. All other product or company names mentioned are used for identification purposes only and may be trademarks of their respective owners.
###