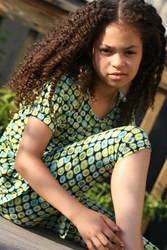 clothing designed by kids for kids.
New York, NY (Vocus) September 16, 2009
My Tiny Closet, a subsidiary of Igloo Island, announced today that it has launched a new online store that offers Igloo Island's complete designer collection of sportswear for young girls and tweens sizes 4-14.
My Tiny Closet (http://www.mytinycloset.com) offers dresses, skirts, tops, sets and skirt buddies designed and manufactured by Igloo Island. Igloo Island is a mom-daughters collaboration in which the pre-teen daughters play a very active role in the entire design process. They help draft the initial designs and then wear first samples to school to garner the input of friends. That is why Igloo Island says they offer "clothing designed by kids for kids."
"I started Igloo Island because my pre-teen daughters and I could not find school clothing that looked good, felt comfortable, and was age appropriate (either because of sexy fits or inappropriate sayings)," said Sandra Stollar, president and chief designer of Igloo Island and My Tiny Closet. "I started My Tiny Closet to make it easier for parents and gift-givers to find Igloo Island clothing at affordable prices. My plan is to expand My Tiny Closet so that we offer clothing and accessories from other companies that fit the styling of My Tiny Closet, that is stylish, fun, comfortable and affordable."
"I love working with my mom and sister," said Cailin, age 9, who in addition to design work also had a recurring role as Keelah in Denis Leary's Rescue Me on the FX Network. "Working on designs with my mom is like our playtime. I also like wearing Igloo Island clothing to school and having my friends tell me how much they like what I have on."
My Tiny Closet offers such styles as: Denim Lurex Jumper, which adds interwoven gold lurex thread into a standard denim dress, giving the jumper an extra dash of sparkle that does not fade in the wash, Go-Go Color Block Dress, which combines energetic styling with the colors of the season in a style that harkens back to the go-go 1970's and Skirt Buddies, which are the perfect undergarment for fun active girls who like to wear skirts but also like to run in playgrounds and hang upside from monkey bars.
About My Tiny Closet
My Tiny Closet is a subsidiary of Igloo Island (http://www.iglooisland.com), a designer of sportswear for young girls and tweens sizes 4-14. My Tiny Closet makes it easy for parents and gift-givers to find clothing that young girls and tweens will enjoy wearing to school, to play and to parties. For more information please visit http://www.mytinycloset.com.
Contact:
ChicExecs PR
http://www.ChicExecs.com
1487 Poinsettia Ave Ste 125
Vista, CA 92081
760.992.9113
ChicExecs PR is an "out of the box" PR company which represents over 70 clients. ChicExecs has created an innovative approach to PR dedicated to helping small-medium business receive media coverage. Our revolutionary automated system is changing the face of PR. To learn more about ChicExecs visit http://www.chicexecs.com.
# # #