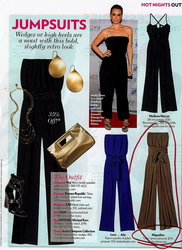 New York, NY (PRWEB) September 22, 2009
Featured in the June/July People Style Watch, http://www.belovedstar.com is the latest go-to website for the international jet-setters and fashionistas with high fashion and impeccable style...
Belovedstar.com was envisioned by owner Priya Scroggins, as a destination website that makes high fashion swimwear from the UK, US, Italy, Australia, Brazil, Colombia and other parts of the world easily accessible online.
The concept was created through Scroggins' travels to tropical climates and glamorous destinations such as St. Barths, Anguilla, Southern France and Italy, Dubai and Brazil, during which she found herself surrounded by luxurious resort and swimwear not readily available in the US that provided style, confidence and comfort. It was with this niche in mind, Scroggins understood the potential for developing a fine resort online boutique for the vacationing fashionista, professional woman, and luxury traveler. "Even in this tough economic climate, people are taking trips or vacations and want affordable luxury fashions to maintain their style. E-commerce is helping by giving people options to shop fine boutiques like http://www.belovedstar.com, that make luxury brands sold mostly internationally, accessible to US consumers and likewise for the US brands being available to international shoppers," Scroggins stated.
Some of (http://www.belovedstar.com) collections include OndadeMar, Miguelina, Marzia Genesi Sea, Anna & Boy, Lotus London, Elizabeth Hurley Beach, Bennett Malibu and Vanessa Mooney Jewelry. These brands were chosen because of each designer's keen ability to focus on colors, textures, design and making sure the cut and fabric of the swimwear or cover-up will make a woman look and feel her best. The Beloved Star selection not only has decent price points (average price starts from $120-$180), they are totally in line with the current wave of fashion in swimwear. From the sexy bikinis to mono-kinis, cover-ups and dresses, some themes include classic/retro prints and cuts, girlie polka-dots, stripes and patterns, timeless black and red, earthy/bohemian prints, brazilian bottoms and deep plunges that flatter only the most daring beach bodies. World renowned celebrities, socialites, and models have been seen in some of these brands in pages of high-fashion magazines and on their hot and sexy vacations.
The site also offers a maternity section where we suggest a selection of cover-ups that are suitable for the fashionista mother-to-be. Striving to find the most relevant and edgy designers in the affordable luxury swimwear market, http://www.belovedstar.com hopes that every shopping experience is seamless and will result in at least one classic resort or swimwear piece customers will keep for years to come.
While offering stylish additions to any fashionista's vacation wardrobe, the site plans to grow into an all-encompassing resort brand carrying the essentials needed for any resort/vacation home or travels. This season, http://www.belovedstar.com plans to add more swimwear designers which will include, Rosa Cha, Jo De Mer, Inca, Tibi, Eberjey, Red Carter, Kathleen Cook, Seventh Wonderland and more...
During this travel and holiday season -- who can resist? Shop http://www.belovedstar.com now!
###