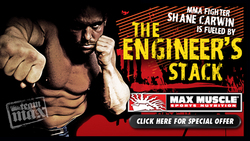 If this were a NASCAR race, I'd say that Max Muscle Sports Nutrition is my Pit Crew
Anaheim, CA (PRWEB) September 16, 2009
In what may be the biggest Pay Per View Event of all time, Max Muscle Sports Nutrition athlete and UFC 106 heavyweight title contender Shane Carwin has engineered a career in which he literally came out of nowhere to become the most talked about athlete since Michael Phelps. An American mixed martial arts fighter who competes in the heavyweight division of the Ultimate Fighting Championship (UFC), he is currently undefeated and holds a notable victory over Gabriel Gonzaga. None of his fights, UFC or otherwise, have made it past the first half of the opening round. All of his fights have been fueled by the advanced nutritional supplementation he receives from Max Muscle Sports Nutrition.
"If this were a NASCAR race, I'd say that Max Muscle Sports Nutrition is my Pit Crew" said Carwin in a pre-fight interview just before training. "I've been taking supplements for more than twenty years and I've tried everything that's been on the shelf. Max Muscle is by far the most superior supplement on the shelf that I've ever taken as far as quality and taste. Beyond that it's all about performance and I don't want to mess with it."
Carwin added, "Max Muscle's education and advice has got me this far, at an optimum weight and level of performance to where I predict a fight on November 21st that won't last five rounds and will crown a new Champion."
Physically demanding sport has always been a passion for the 34-year-old Carwin. In college he was the NCAA II Wrestling Heavyweight National Champion in 1999. He was also a two-time All-American in football. Carwin became an engineer out of college and works for the Greeley, Colorado PUD while pursuing his MMA career even though most MMA fighters are only fighters. He's also a volunteer wrestling coach for the University of Northern Colorado.
Because of his focus on career born from his two degrees in Mechanical Engineering and Environmental Technology, Carwin's focus on family and setting a good example for his sons have placed him in a position of being the "Good" in the fight for the title at UFC 106 on Nov 21st, 2009 at the Mandalay Bay Events Center in Las Vegas, Nevada against the current title holder Brock Lesnar.
"Mixed Martial Arts…there's a lot of skill and technique and discipline that goes into it." Stated Carwin. "Brock has been disrespectful. In his last fight with Frank Mir he was disrespectful to Frank and disrespectful to the fans. I've been outspoken about it because that's not how the majority of MMA fighters are or ever will be. Most fighters are the most respectful and disciplined athletes you'll ever meet. Brock is not. I'm looking forward to making the UFC Champion's image one of respect once again…the sport deserves a Champion representative of its core beliefs.
Carwin made his UFC debut on the undercard of UFC 84 against Christian Wellisch. He won the match by KO in 44 seconds in the first round, knocking Wellisch's mouth guard across the octagon from the impact. Carwin followed up with an appearance in Birmingham, England at UFC 89 against Neil Wain, winning by TKO in 1:31 of the first round.
At UFC 96, Carwin took a major step up in competition when he faced former number one contender and renowned Brazilian Jiu Jitsu ace Gabriel Gonzaga. Carwin announced himself as a serious contender with an impressive knockout via a straight right hand after 69 seconds of the first round, his eleventh consecutive victory within the first half of the first round.
"The Engineer", as he is known in UFC circles, is not a moniker born strictly from his education. Carwin takes the same approach to his personal fitness with precise and detailed 'stacks' of nutrition and supplementation to augment his arduous training schedule. Based on Shane Carwin's regimen, created by our Max Muscle Greeley location, we are proud to introduce The Engineer Stacks at MaxMuscle.com
"The fans gave me the nickname 'The Engineer' because of my two college degrees and busy schedule, but I had to sit down with Max Muscle and develop a Nutritional Plan because I realized I don't know it all and I needed an expert. They put together a supplementation and exercise plan based on my goals - specific to my goals - and each week I went and weighed in at the Max Muscle store, checked body fat, checked everything. I learned when was the right time to take my carbs, my proteins, what amounts, in what order…things I didn't know at all. The results have fueled me to where I am today."
The Brock Lesnar-Shane Carwin meeting - a demolition derby UFC fight, considering their combined 500-plus pounds - has focused a great deal of attention on each fighter's physical characteristics. Carwin notably has the biggest hands in the UFC. He wears the same 4X gloves as fellow heavyweight Brock Lesnar does, but must cut them open on the sides to make them fit. Carwin trains with custom made 5X gloves, but cannot use them in fights where official UFC fight gloves must be worn.
The only questions surrounding Carwin in this defense is his longevity. He's been so dominant that nobody has seen him fight past the second or third round. Ron Waterman, Carwin's high school wrestling coach and Lesnar's roommate during a development stint in a WWE training league was recently quoted on ESPN.com complimenting Carwin's training. "He's a wrestler, training up at altitude [in Colorado], training extremely hard. He prepares five rounds for a three-round fight."
Concluded Carwin, "Like I said, it won't go five rounds, it will be a knockout, and there will be a new UFC Champion come November 21st."
For more information about Max Muscle Sports Nutrition and to see Shane Carwin's personal "Stacks" or for a special offer on Shane's personal stack or nutritional supplementation, visit: MaxMuscle.com
Max Muscle Sports Nutrition Franchise Opprotunities exist at MaxMuscleFranchise.com where you can witness the passion behind the brand.
###