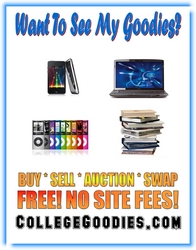 College Goodies was formatted with the hope it can help our student's financially by them selling their product and services or even starting their own online business
Fresno, CA (PRWEB) September 22, 2009
With the launch of College Goodies, it can give the student, teachers, school staff even the colleges a new marketing tool. They will have the ability to market their products and services via a worldwide e-Commerce environment by listing one item to thousands or even open a store with their business logo on their page.
The sites Payment Processing Center supports a wide range of payment gateways like PayPal, Google Checkout, Amazon and many more so the payment go directly to the seller.
A cool feature is the Google Map Item Locator. It shows via a Google map if the item is across the country or across the street. The messaging system can send a text message to a mobile device if the item is bid on or sold.
With the 'Specialty Links' on the sites home page students have direct links to more college related sites like Scholarships.com, USA Jobs.gov, FAFSA and Perkins for financial aid and they even links to the White House.
The exciting thing about CollegeGoodies.com is it was not formed by a huge company or corporation it was created by a single dad with kids in college.
"College Goodies was formatted with the hope it can help our student's financially by them selling their product and services or even starting their own online business," says Mr. Murry, the owner of the site.
Without question the site was structured with the student in mind. No registration fee, unlimited listings, no selling fees and with pretty much everything else free on the site College Goodies is a must for the student planning to attend or currently enrolled in college.
Contact:
Joseph Murry
559.394.7709
###