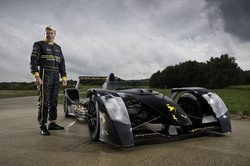 Born 1820 - Still Going Strong
Singapore (PRWEB) September 17, 2009
Johnnie Walker® has shifted into overdrive to present the ultimate line up of Formula One™ trackside experiences at the 2009 Singapore Grand Prix. In order to give VIPs, celebrities and consumers a taste of the fast-paced and glamorous world of Formula One Johnnie Walker will roll out a week of exclusive events guaranteed to get pulses racing.
James Thompson, chief marketing officer, Diageo Asia Pacific said: "At every race we go to, Johnnie Walker helps to define the trackside experience and this year in Singapore, we have upped the ante. Johnnie Walker is throwing the hottest parties in town offering Formula One A-listers two sophisticated and stylish venues. We will also give consumers exclusive access to racing superstars Lewis Hamilton, Heikki Kovalainen and Mika Hakkinen to deliver the Never Drink and Drive message in unforgettable ways."
Johnnie Walker JOIN THE PACT Supercar run
Racing full speed ahead from Monday 21 September, Johnnie Walker Global Responsible Drinking Ambassador, Mika Hakkinen will jump-start a week of Johnnie Walker events at 300kph in the JOIN THE PACT Supercar. The Flying Finn will put the pedal to the metal in the Johnnie Walker JOIN THE PACT Supercar to highlight the importance of nominating a designated driver on a night out. In the Supercar, a high performance two-seat sports car, Mika will be able to offer a few lucky consumers and selected VIPs the ride of their lives. Those not lucky enough to win a ride in the Supercar can still catch the action at Changi Exhibition Centre as a spectator from 11:00am-1:00pm.
Johnnie Walker Jet Black Party
Inspired by the night, designed with sophistication, and delivered in Black, Jet Black - the Johnnie Walker Jet Black Party] will be the ultimate after party for the most sophisticated party-goers, Formula One VIPs and international celebrities in Singapore. At Jet Black, Johnnie Walker will blend the perfect mix of internationally celebrated DJs, world class mixologists and the hottest waterfront venue in Singapore, One on the Bund, to keep the energy of the Night Race alive long after the checkered flag falls.
Serving up some of the best cocktails in the world, guests at the Jet Black Party will have the pleasure of drinking cocktails mixed for them by three bartenders that placed in the top five in the 2009 World Class Bartender competition - Adi Ruiz, from leading fusion restaurant and bar Seamstress in Australia, Jaejin Lim from Coffee Bar K in Korea and Mari Kamata from The Peninsula in Tokyo. Representing Singapore in the mixology room will be rising star Aubrey Sim from Bar Klee who was also a World Class finalist.
Johnnie Walker will fly in two of the hottest DJs on the international party circuit - DJ Mia from the US and DJ Sharam Jey from Germany - to keep the dance floor packed until 5:00am on the 26th and 27th September. The Johnnie Walker Jet Black Party will be an exclusive, invitation-only event, but there will be plenty of ways for Johnnie Walker fans to get onto the Jet Black list.
Hamilton and Hakkinen face off against drink driving
In return for signing the pledge to Never Drink and Drive at "http://www.jointhepact.com", Johnnie Walker will reward four consumers from around Asia Pacific by treating them to a VIP race weekend in Singapore. These winners and selected VIPs will also have the chance to get up close and personal with race superstars Lewis Hamilton, Heikki Kovalainen and Mika Hakkinen at a Johnnie Walker JOIN THE PACT Champions event at the Conrad Hotel on Saturday 26 September. One grand prize winner will also get to see his name speed by on Lewis and Heikki's helmets when his signature replaces the Johnnie Walker logo on the two drivers' visors.
Johnnie Walker presents 'The Black Lounge Experience'
Johnnie Walker will build the first ever two-storey temporary entertainment venue at the fountain area of Clarke Quay. Open from 20 to 27 September 2009, the Johnnie Walker Black Lounge will be the place to be for great drinks, great music and non-stop night race action.
In addition, guests can get an up close and personal look at the Johnnie Walker JOIN THE PACT Supercar which will be on display in the Black Lounge until 22nd September. The display is part of the car's Asian debut, which consists of a three-city tour in support of the JOIN THE PACT Never Drink and Drive campaign "http://www.jointhepact.com".
Masterful mixology
To make the weekend even more memorable for race fans across Singapore, Johnnie Walker has created exclusive Black Label® cocktails inspired by the night race. Top Johnnie Walker mixologists have created three special cocktails that will be available at nightlife outlets around Singapore for a limited time. These cocktails will also be served in the Johnnie Walker Jet Black and Black Lounge parties as well as in the Vodafone McLaren Mercedes paddock suite. On the menu this year, Johnnie Walker fans can enjoy:

Johnnie Walker Yellow Flag, a lively concoction punctuated with ginger and citrus
Johnnie Sour, the smoothness of Black Label with a bite
Johnnie Walker Checkered Flag, East meets West with layers of lychee, peach and Cranberry
Visit http://www.facebook.com/johnniewalkerracing for more information.
About JOHNNIE WALKER®
Throughout almost 200 years of trading, John Walker's original values of quality and consistency have been rigorously applied to the blending process. Like John's grandson, Alexander, a master of the art of blending, today's specialists combine a first-class training, a natural talent and a Master Blender's perceptive nose; all crucial when creating complex blends.
In 1908 "Born 1820 - Still Going Strong" appeared on Johnnie Walker advertising material. Nearly a hundred years later John Walker & Sons continues to produce successful leading-edge brands. The range of stylish, award-winning whiskies now includes Red Label®, Black Label®, Green Label™, Gold Label™, Blue Label™, Premier™ and Swing™. Together they account for 16.3 million cases annually, making Johnnie Walker the most popular Scotch Whisky in the world. The JOHNNIE WALKER, RED LABEL, BLACK LABEL, GREEN LABEL, GOLD LABEL, BLUE LABEL, PREMIER, SWING and KEEP WALKING words, the Striding Figure device and associated logos are trademarks.
###