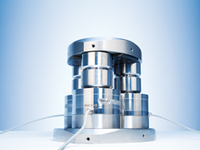 Darmstadt, Germany (Vocus) September 17, 2009
HBM has launched the Build-up-System BU18 enabling compressive forces of up to 3MN to be measured. Comprising three C18 parallel switched precision force transducers - each with a 1MN nominal rating - the compressive force transducer is particularly suit-able for on-site calibration.
The BU18 attains an accuracy class 00 per ISO 376 and giving very precise calibrations, even for mobile applications. The BU18 can, for example, be used to check material testing machines or force transducers with high precision on-site as it can be easily installed and removed. The use of a reference force transducer system, such as BU18, is an alternative to using a direct loading calibration system.
Direct loading calibration systems are usually used for the calibration of force transducers in national institutes and specialist calibration laboratories. However, these are extremely large and very expensive when measuring large forces.
The Build-up System can easily be fitted and removed by one person. All system components can be removed individually, and are clearly marked for ease of assembly. This makes the unit significantly lighter than any comparable 3MN force transducer in its class.
The BU18 can be fitted in a wide range of equipment such as test benches. In addition, the three 1MN force transducers can be used independently as stand-alone reference force transducers.
Further information is available at: http://www.hbm.com/calibration
###