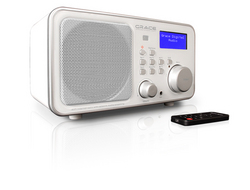 While our breadth of stations is impressive, it's our offering of quality content providers like Live365 that truly sets Grace Digital internet radios apart from the competition
San Diego, CA (PRWEB) September 16, 2009
Grace Digital provides the world's largest and highest quality channel line-up of digital music, news, and talk radio via their wireless internet radios. Listeners simply connect one or more Grace Digital internet radios to their broadband internet connection for instant station access. With over 20,000 popular and diverse radio stations available, Grace Digital leads the internet radio revolution. "While our breadth of stations is impressive, it's our offering of quality content providers like Live365 that truly sets Grace Digital internet radios apart from the competition," according to Greg Fadul Grace Digital's Chief Marketing Officer.
Grace Digital provides a full line up of internet radios to match your lifestyle needs. Models include the best selling Innovator II table top radio to the Duet Dock Internet radio with a built in iPod Dock to their newest release, the Bravado, with a built in stereo class D digital amplifier.
The complete line up of Grace Digital internet radios is available directly at their web site at http://www.gracedigitalaudio.com. Select models are available at Best Buy, Frys, J&R Music, Ultimate Electronics, London Drugs (Canada) and other soon to be announced select regional and national retail locations.
About Grace Digital:
Grace Digital is a leading manufacturer of networked audio and Analog to Digital consumer electronics under its family of brands; including Lars & Ivan branded high performance audio systems, recordable USB turntables, Cell2Tell Bluetooth cellular gateways, SBC branded telephony solutions, and Grace Digital Audio line of wireless and wired multi-room and outdoor audio systems. Based in San Diego, California, Grace Digital sells its products through select dealers and distributors throughout North America.
###