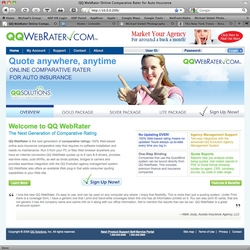 As with QQ Evolution, the advanced new agency management system that we also introduced today, we designed QQ WebRater based upon extensive customer input, involvement and testing
Deerfield Beach, FL (PRWEB) September 21, 2009
QQ Solutions, Inc, a leading provider of software and Web-based technology solutions for the insurance industry, today released its new advanced software-as-a-service Web-based comparative auto insurance rater named QQ WebRater™ for insurance agencies in the State of Florida.
QQ WebRater is the company's newest comparative auto insurance rater and provides quotes for up to 6 cars and 6 drivers from over 50 insurance carriers in the State of Florida. QQ WebRater provides agents with real-time rating, bridging to carriers' Web sites, binding of policies and also pulls MVRs. QQ WebRater is offered as a software-as-a-service (SaaS) Web application and is based on the latest Web technologies and design standards and can be run on both PCs and Macs using Internet Explorer or Firefox browsers. QQ WebRater is a completely hosted solution and requires no software to install or maintain. The company will offer a consumer portal Web site plug-in later this year, which will add consumer-facing real-time auto insurance quoting capabilities to agency Web sites and will provide agents with lead management and tracking.
QQ WebRater is available to Florida insurance agents in three packages: Lite, Silver and Gold. The Lite package provides limited quoting and is offered to agents for free. The Silver and Gold packages progressively add additional features and capabilities. Agents may upgrade to the Silver or Gold packages at any time. QQ WebRater will become available in other states in the near future. QQ WebRater is available at http://www.QQWebRater.com or on the company's main Web site at http://www.QQSolutions.com.
"As with QQ Evolution, the advanced new agency management system that we also introduced today, we designed QQ WebRater based upon extensive customer input, involvement and testing," said Michael Stebel, Chief Operating Officer for QQ Solutions. "QQ WebRater is affordable, easy-to-use and requires no software installation or maintenance. By offering QQ WebRater in three packages, agents can choose the combination of features, capabilities and price point that best meets their needs. In addition, with our new Web-based online account management, we've made it fast and easy to sign-up, purchase and start using QQ WebRater."
Industry Quotes:
"I love the new QQ WebRater. It's easy-to-use and can be used on any computer anywhere. I enjoy that flexibility. This is more then just a quoting system. For example, under 'Print', there is a coverage form that has all information printed on it. We can also print ID cards that have the carrier name and claims info on them along with our office information. Not to mention the reports that can be run. QQ WebRater is a great all-around system."
--Tammy Hoffman, Mezzatesta Insurance Agency
"I like the new QQ WebRater because it is an easy-to-use program that seamlessly fuses new technology and the Internet. You guys have an excellent replacement program for the 'regular' QuickQuote, because anybody that uses QQ WebRater will be able to work with it with very little if any training."
--Jerry Manzanares, M&M Family Insurance
About QQ Solutions, Inc.:
QQ Solutions is a full-service technology and data services company that is committed to providing the Insurance Industry with easy-to-use, feature-rich solutions that enhance productivity, reduce operating expenses, help eliminate paperwork, increase revenues and provide the best value for insurance agencies nationwide. The company strives to delight its customers by exceeding their expectations in product quality, customer service, training & support, and by meeting their evolving needs through a program of continuous product development and improvement incorporating the best available technologies.
QQ Solutions' headquarters is located in Deerfield Beach, Florida, where the company employs 70 people in software development and testing, product management, product support, training, marketing, sales, IT and administration.
For further information, call the company at 1.800.940.6600, or visit the QQ Solutions Web site at: http://www.QQSolutions.com.
Contact:
Michael Stebel, COO
QQ Solutions, Inc.
1.800.940.6600
http://www.QQSolutions.com
http://www.QQWebRater.com
###