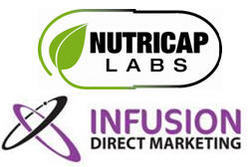 We are enthused to utilize the marketing expertise of Infusion to keep the momentum building for our organization. Our goal is to continue growing our business by launching targeted marketing campaigns that will increase brand awareness in the marketplace
Farmingdale, NY (PRWEB) September 17, 2009
Nutricap Labs (http://www.nutricaplabs.com)], a leading provider of nutraceutical services such as contract manufacturing, packaging, labeling and order fulfillment, today announced it has selected Infusion Direct Marketing, a marketing consultancy firm, as its marketing agency of record. Infusion will coordinate all press releases, direct mail, list research, strategic marketing planning, company newsletters, and print advertising programs for the firm.
"We are enthused to utilize the marketing expertise of Infusion to keep the momentum building for our organization. Our goal is to continue growing our business by launching targeted marketing campaigns that will increase brand awareness in the marketplace," said Jason Provenzano, Executive Vice President for Nutricap Labs. "The Infusion team is looking forward to working with one of the fastest-growing, privately held companies in America to help get the word out about their turn-key nutraceutical solutions," said Monique Merhige, Infusion's President.
About Nutricap Labs:
Nutricap Labs is a leading full service vitamin supplement manufacturing firm that primarily manufactures nutritional tablets, capsules, powders, liquids and creams. The company has been placed on the 2009 Inc. 500/5000 List and has been ranked as the 42nd fastest-growing private company in America, 4th fastest-growing private company in NY-NJ-PA area, and 3rd fastest-growing, private health company in America. They offer labeling, packaging design services and order fulfillment services to their customers. For information about their full line of nutraceutical manufacturing solutions, visit their website or call 1-800-494-6154 to speak to one of their knowledgeable product advisors.
About Infusion Direct Marketing:
Infusion Direct Marketing is a boutique direct marketing consultancy offering comprehensive marketing consulting services including: Strategic Marketing Planning, Public Relations, Direct Mail and E-Mail Campaigns, Print and On-Line Advertisements, and Lead Management. Principal Monique Merhige provides over 15 years of direct marketing experience. For more information, please call 631-846-1558 or visit our website.
# # #