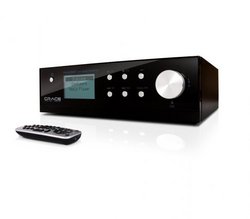 San Diego, California (PRWEB) September 16, 2009
According to recent studies, over 85% of American's listen to Blogs, music and talk radio via their home computer. This recent trend has allowed leading edge companies like Grace Digital to create a new market category called 'Standalone Internet Radios'.
'Grace Internet radios provide users with a superior audio experience inside or outside their home. With the addition of Blogtalkradio's class leading service, Grace Internet radios have immediate access to the best shows from around the web on any subject', according to Greg Fadul, Grace Digital's CMO. Grace Digital provides a full line up of internet radios to match your lifestyle needs. Models include the best selling Innovator II table top radio to the Duo Dock Internet radio with a built in iPod Dock to their newest release, the Bravado, with a built in stereo class D digital amplifier.
The complete line up of Grace Digital internet radios is available directly at their web site at http://www.gracedigitalaudio.com . Select models are available at Best Buy, Frys, J&R Music, Ultimate Electronics, London Drugs (Canada) and other soon to be announced select regional and national retail locations.
About Grace Digital:
Grace Digital is a leading manufacturer of networked audio and Analog to Digital consumer electronics under its family of brands including; Cell2Tell Bluetooth cellular gateways, SBC branded telephony solutions, Lars & Ivan branded high performance audio systems, and Grace Digital Audio line of recordable USB turntables, internet radios, wireless and wired multi-room and outdoor audio systems. Based in San Diego, California, Grace Digital sells its products through select dealers and
distributors throughout North America.
About BlogTalkRadio:
BlogTalkRadio is the social radio network that allows users to connect quickly and directly with their audience. Using an ordinary telephone and computer hosts can create free, live, call-in talk shows with unlimited participants that are automatically archived and made available as podcasts. No software download is required. Listeners can subscribe to shows via RSS into iTunes and other feed readers. Our network has produced hundreds of thousands of episodes since it launched in August of 2006.
# # #