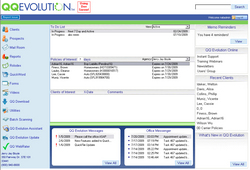 QQ Evolution is one of the best products for agency management on the market today. Its features will work for even small and very large agencies. It's workflow and feel is great! As a former AMS customer, this product can do most things the larger companies do for a fraction of the cost. I would highly recommend this product to any AMS customer!
Deerfield Beach, FL (PRWEB) September 21, 2009
QQ Solutions, Inc, a leading provider of software and Web-based technology solutions for the insurance industry, today released its new and most advanced agency management system named QQ Evolution™.
QQ Evolution incorporates major advances in features and capabilities, and offers a greatly enhanced user-experience, as compared with other agency management systems. QQ Evolution offers many new and advanced features, including an SLA-backed enhanced Data Hosting Service for secure online database management, claims processing, support for MGAs, advanced and flexible commissions structure, new ACORD capabilities, unique Dashboard-centric user-interface, intra/inter-office messaging, task management, new reporting features and much more. QQ Evolution is a hybrid solution incorporating both an installed desktop software application and online Microsoft SQL database accessed via QQ Solutions' guaranteed Data Hosting Services and secured with 128-bit SSL encryption.
QQ Evolution is available to agencies throughout the United States and is offered in three packages: Lite, Silver and Gold, each providing a set of features and price point to match the specific needs of independent insurance agencies. Agencies can instantly upgrade from one package to the other online. Agents may purchase their QQ Evolution agency management system subscription online at http://www.QQEvolution.com or on the company's main Web site at http://www.QQSolutions.com.
"We developed QQ Evolution with extensive customer input, involvement and testing," said Michael Stebel, Chief Operating Officer for QQ Solutions. "Therefore, we believe we've addressed many of the unmet needs of insurance agencies as well as the limitations of existing agency management solutions. By focusing on making QQ Evolution easy-to-use, workflow oriented and modular, agencies of any size will find that QQ Evolution is a great fit for their specific needs. In addition, with our new Web-based online account management, we've made it fast and easy to sign-up, purchase and start using the products. The response from agencies across the Country has been fantastic, as demonstrated by the enthusiastic feedback from the agent community, as well as by the pre-orders we've received."
Industry Quotes:
"Thank you for allowing Robertson Insurance Services to be a participant in the QQ Evolution Beta test. As a new user of the Enterprise Edition of QuickFile, our company had been so pleased with the ease of use compared to the 'other' company that we had previously used, we thought QuickFile was wonderful. Now having had the opportunity to test the QQ Evolution we found the ease of navigation, user friendly desktop, and all of the client/company related features make this product one that will make our day to day business even more productive. The features that our company found to be the most improved are the desktop configuration for ease of navigation through the entire applications available. The extended information areas to provide in depth client information without having to move to different screens in order to access this information. The upgraded report systems, allowing for better use of the actual business, and how the office can use these reports to better serve the clients as well as the bottom line for our company. The ease and depth of commission structures in order to track not only the commissions due to our company but also for those who are commissioned employees. These are just a few of the highlights that we found exceptional and there are numerous others that will be important in the day to day business. We are excited for the release date of QQ Evolution and know that those who are current users and potential users will find this such an easy and profitable tool for their offices. The most important factor of not only QQ Evolution but of the existing QuickFile Enterprise system is the outstanding customer service and support. Coming from another product with very little customer service we found that QQ Solutions truly cares about the customer. Again from all of us at Robertson Insurance Services we appreciate your continued commitment to the future of QQ Evolution."
--Patrice Robertson, Robertson Insurance Services
"I started working in this agency last year. The agency that I came from used a management system much like QQ Evolution. I remember my first day here and using QuickFile--the program was basic compared to what I was used to and lacked so much. I am happy to report that QQ Evolution has filled those voids. I have no complaints--I love it. This new program is so much more thorough than QuickFile. I had gotten in the habit of putting info in the memo section things that I knew I wanted to keep (e.g., Claim info, Adjuster info, etc.). QQ Evolution is refreshing & complete!!!! We are looking forward to using it!"
--Nikki Jouty, Acosta Insurance Agency, LLC
"I have been a loyal client of QQ Solutions since I started my agency. I have been using their products and services for over 4 years now and I couldn't feel any happier about that decision. The new QQ Evolution agency management system will consolidate many of our tasks and I'm excited to see how much more efficient and productive our office will be with it! I have always said, I can afford any management system out there, but I choose QQ Evolution for my agency!"
--Uwe Philip Kirch "Trout", Rocky Mountain West Insurance
"This QQ Evolution has definitely kick-started the Next Gen of agency management software systems. I have been with QuickFile for 3 years now and I was impressed with the overall system. Now that I tested the QQ Evolution system I am happy to inform all current users and future users that this system is now among the Elite, such as AMS 360, Applied, etc. QQ Evolution has twice the functionality as QuickFile, I hope you enjoy."
--Justin Lancaster
"We are extremely impressed with QQ Solutions' willingness to listen to our concerns and improve their system...there is always somebody willing to go the extra mile to help."
--John Grimes
"QQ Evolution is one of the best products for agency management on the market today. Its features will work for even small and very large agencies. It's workflow and feel is great! As a former AMS customer, this product can do most things the larger companies do for a fraction of the cost. I would highly recommend this product to any AMS customer!"
--Scott Knight, Knight and Tabb Insurance Agency
"QQ Evolution is truly a revolutionary agency management product that really competes with the bigger players (AMS, Applied) without breaking your wallet. It is a full-featured system that will handle all of the needs of a small to medium sized agency with ease. I would recommend this to anyone."
--Darrell Seeger
"I have been a QuickFile user for several years, and the functionality and ease of use have always been superior to many of the other systems I have looked at. The new QQ Evolution takes this into the stratosphere with the new added features. I would recommend this to any agency that is growing and needs a system that will assist in that growth, especially with the new emphasis on marketing. I give QQ Evolution an A Plus."
--Julius Jones
About QQ Solutions, Inc.:
QQ Solutions is a full-service technology and data services company that is committed to providing the Insurance Industry with easy-to-use, feature-rich solutions that enhance productivity, reduce operating expenses, help eliminate paperwork, increase revenues and provide the best value for insurance agencies nationwide. The company strives to delight its customers by exceeding their expectations in product quality, customer service, training & support, and by meeting their evolving needs through a program of continuous product development and improvement incorporating the best available technologies.
QQ Solutions' headquarters is located in Deerfield Beach, Florida, where the company employs 70 people in software development and testing, product management, product support, training, marketing, sales, IT and administration.
For further information, call the company at 1.800.940.6600, or visit the QQ Solutions Web site at: http://www.QQSolutions.com.
Contact:
Michael Stebel, COO
QQ Solutions, Inc.
1.800.940.6600
http://www.QQSolutions.com
###