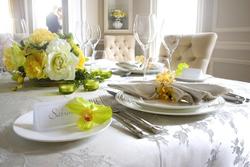 As one of the key focal points of the wedding reception, a unique and elegant table setting has the ability to bring the wedding theme to life and really wow guests
New York, NY (PRWEB) September 17, 2009
TrendexHome.com™, the fashion-forward designer and distributor of premium table linens, today announced Trendex Home Weddings, a dedicated arm of TrendexHome.com devoted to the needs of brides and grooms as they create the perfect setting for their wedding day. TrendexHome Weddings will help identify the right table linens and accessories to complement each couple's unique wedding theme. With nearly 250 styles of tablecloths, napkins, and napkin rings to choose from, TrendexHome.com offers an array of options to suit every theme, season, taste and budget.
"As one of the key focal points of the wedding reception, a unique and elegant table setting has the ability to bring the wedding theme to life and really wow guests," says Sabrina Bordo, president of TrendexHome.com. "With so many requests from brides frustrated by the limited options of rental companies, we saw an opportunity to help enhance the wedding day by offering affordable, coordinated table settings."
TrendexHome.com offers a collection of fashionably elegant table linen styles and colors. Each tablecloth can be paired with matching runners, napkins and napkin rings that together create an impressive, coordinated look. Compared to renting table linens, TrendexHome.com offers an affordable, more personalized option for linens and accessories.
TrendexHome Weddings will offer Fall and Winter bridal discounts, and provide special pricing for custom-sized table linens when purchased in quantities of 10 or more. To view standard colors, patterns, and sizes, visit http://www.TrendexHome.com or email Weddings (at) TrendexHome.com.
About TrendexHome.com:
TrendexHome.com is the premier destination for superior quality, fashion-forward table linens and accessories. With 250 pattern and color combinations, TrendexHome.com elevates the dining experience to create a truly memorable event. Whatever the occasion, TrendexHome's vast and distinctive selection of fabrics and colors ensures that customers find the right furnishings to create a coordinated setting in harmony with their décor. For more information visit http://www.TrendexHome.com.
###