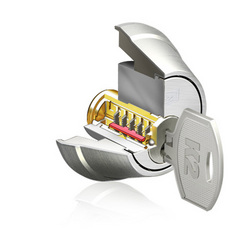 We are thrilled to be able to offer SmartKey re-key technology to the commercial market
Orlando, Florida (PRWEB) September 16, 2009
Drawing on the success of Black & Decker's revolutionary Kwikset SmartKey re-key technology, K2 Commercial Hardware (K2) today debuted its first SmartKey-enabled products servicing the commercial builder market at the 2009 Door and Hardware Institute's (DHI) Annual Conference and Exposition in Orlando, Fla. The launch of K2's SmartKey products provide the opportunity for designers, architects and builders to offer their clients the latest in improved security and convenience. In three simple steps that take a matter of seconds, users have the flexibility to re-key their own locks quickly and easily without the need to remove the lock from the door. Available in K2's line of Deadbolts, Interconnect Levers and Key Control Deadbolts, K2's SmartKey-enabled products will be on display at DHI 2009 at Gaylord Palms Hotel and Convention Center, booth No. 1613, Sept. 16-25.
"We are thrilled to be able to offer SmartKey re-key technology to the commercial market," said Adam Matusz, product manager, K2. "This unique technology is one of Black & Decker's most successful innovations in company history and provides improved security and a level of convenience never before experienced by end-users. From a business perspective, it truly differentiates us in today's increasingly competitive marketplace in which we are constantly striving to provide even greater value to the partnerships we forge with our clients."
Revolutionary SmartKey Technology
K2's SmartKey-enabled products feature a patented side-locking bar technology, central to the device's ability to be rapidly and easily re-keyed. This locking system allows consumers the flexibility to quickly match all the entry points to one key, offering instant one-key convenience. By using the SmartKey Learn Tool and the existing functioning key, users can safely match or change out keys without special training or outside contractors, yet are secure against any unauthorized key changing.
Delivering outstanding strength and protection, the K2 SmartKey-enabled deadbolt features ANSI Grade 2 certification and passes the most stringent lock picking standard, UL 437, par. 11.6. This innovation eliminates the typical sheer line, pins and tumbler mechanisms in its design, removing the most vulnerable points within lock design. The K2 SmartKey deadbolts also feature improved drill resistance and integrated BumpGuard Protection, offering an affordable solution to the growing concern of lock-bumping intrusions.
Suite of Commercial Hardware Solutions
K2 offers a wide selection of value-driven, innovative and stylish commercial hardware products to cater to a variety of commercial building market segments. The following also will be on display at the DHI show:

QCI200 Series Interconnected Lever: This heavy duty lock is designed for multifamily, assisted living, commercial and mixed-use applications where single motion egress is required for easy emergency exit. Levers are built to withstand the physical abuses of the applied environment, and include the following key features: heavy duty cylindrical lock for increased durability; easy installation on standard commercial door preps; full one-inch throwbolt with saw resistant hardened steel roller pin; anti-drill design deadbolts with two ball bearings inserted to prevent drill attacks.
QED100 Series Concealed Vertical Rod: These architecturally-inspired exit devices are designed for education, health care and industrial facilities where a long-lasting, highly durable product is required. The Concealed Vertical Rod features ANSI Grade 1 certification and thru-bolted trim design for increased security and durability. A complete offering is available from panic-rated, fire- rated and less bottom rod options.
Customizable Exit Devices: The ability to brand and personalize key points of entry and exit is a K2 exclusive offering. No other commercial hardware company allows customers to make such a statement on their doors. Logos are anodized into the metal to prevent wearing-off. Designs are available in any color for a truly personalized and branded design.
QDC100 Series Big Body Door Closer: K2's full line of big body door closers meets any building requirement. Both back check and delayed action are built-in so customers do not have to settle for half a solution.
Electrified Options: A full line of electrification options and power supplies are available on select levers and exit devices.
K2's full suite of commercial security solutions are available in a variety of finishes and offer a lifetime mechanical warranty, a three-year finish warranty and a one-year electrical warranty. For additional information on the K2 product line, please call (866) 590-2094 or visit k2commercialhardware.com.
About K2 Commercial Hardware
K2 Commercial Hardware by Black & Decker offers the finest in security, quality, value, style and customer service to designers, architects and builders. The K2 product line includes locksets, auxiliary deadbolts, exit devices and door closers to meet the needs of today's commercial builder market. K2 is committed to delivering distinctive hardware solutions, while simplifying the customer experience by being a true partner with its customers. Backed by the top name in hardware and home improvement for more than 60 years, K2 is a proud member of the Black & Decker Hardware and Home Improvement (BDHHI) family of products, a leading global provider of architecturally-inspired building products. For more information about K2 Commercial Hardware, please visit the company's Web site: http://www.K2commercialhardware.com.
BDHHI is a division of Black & Decker, a leading global manufacturer and marketer of power tools, power tool accessories and security hardware. Today, the BDHHI Group includes some of the most recognizable hardware and home improvement brands in the world including Baldwin, Kwikset, Weiser, Price Pfister and K2.
# # #