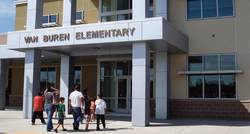 Energy-smart building choices make good sense
Boise, ID (PRWEB) September 16, 2009 -
On September 15th Caldwell School District hosted legislators, community leaders, and other stakeholders during the opening of the state's first school to pursue LEED Silver certification, Van Buren Elementary. McKinstry, an Idaho-based building expert, provided mechanical engineering services and sustainability consulting for the school, which was built with a host of energy efficient features expected to save the district thousands in future energy expenditures and provide a healthier learning environment for its students - 89% of whom fall below the poverty line.
Caldwell's goal for Van Buren Elementary is two fold: to significantly provide a better indoor environment for students and to significantly reduce the schools overall operating costs. According to the US Department of Energy, the money spent on fueling a school exceeds the money spent on salaries, supplies, and books. In fact, schools spend in excess of $6 billion annually on energy alone, a cost that could be defrayed by 25% with better conservation initiatives. Caldwell School District anticipates saving 30% in future energy costs by equipping Van Buren Elementary with energy saving features.
"Energy-smart building choices make good sense," said Jennifer Swindell of The Caldwell School District. "Not only do they save money while decreasing our carbon footprint, but it's been proven that energy saving innovation in school buildings greatly improve our teachers' ability to do their job and their students' abilities to learn."
Van Buren's new school building is 70,000 square feet and boasts a number of improvements designed to conserve energy and enhance learning. These include: the building's V-shaped design intended to capture solar energy; large classroom windows that provide illumination throughout 90% of the building; building products made from recycled materials; high-performance kitchen and bathroom fixtures to maximize water efficiency; and HVAC systems that keep room temperatures consistent and help reduce greenhouse gas emissions.
Project funding for the school, which cost $12 million to construct, came from ESPC (Energy Savings Performance Contract) incentive programs offered by Idaho power as well as funding assistance from the Idaho Office of Energy Resources. By going against the norm and choosing McKinstry's integrated design/build approach, Caldwell School District has distinguished itself from other educational organizations who erroneously believe that bid/spec is the best approach to public funding. McKinstry's integrated delivery and the collaborative working relationship between project teams ensured the smooth integration of systems to streamline processes, eliminate waste, and drive down costs for the district, which helped reinforced its conviction in the design/build approach.
"The Caldwell School District is the first in Idaho to make the connection between long-term energy savings and increased education resources," noted Ash Awad, McKinstry's VP of Energy Services. "It has shown unwavering community leadership in its commitment to set a new standard for education through emphasizing energy conservation and operational efficiency. Its vision of considering TCO (Total Cost of Ownership) for both existing and new facilities arose out of a desire to ensure that students within its jurisdiction receive equal access to a safer, healthier, and more enriching learning environment. The Caldwell School District's vision and sustained efforts in this regard has made it a model for Idaho."
In addition to an improved school environment, The Caldwell School District hopes to use Van Buren Elementary's sustainable features as a teaching tool. The district is currently working with administrators to integrate sustainable concepts into a curriculum that will demonstrate to students how small changes - such as biking to school, recycling, conserving energy and buying local - can make a difference in their lives everyday.
About McKinstry
McKinstry is a full-service, design-build-operate-and-maintain (DBOM) firm specializing in consulting, construction, energy, and facility services. Our innovative, integrated delivery methodology provides clients with a single point of accountability that drives waste, cost, time, and redundancy out of the design/build process. We employ over 1,600 professional staff and trades people throughout the Pacific Northwest, Rocky Mountains, West, Midwest, and Southwest regions of the United States with operations in more than 15 states. McKinstry advocates collaborative and sustainable solutions designed to ensure occupant comfort, improve systems efficiency, reduce facility operational costs, and ultimately optimize profitability for "The Life of Your Building."
For more information, visit http://www.mckinstry.com
About Caldwell School District
The Caldwell School District has 6,200 students and more than 800 employees working in 10 schools. Superintendent Roger Quarles is committed to increasing students' achievement and hiring and retaining the very best teachers. Caldwell's graduation rate has improved each of the last three years.
For more information, visit http://www.caldwellschools.org
###