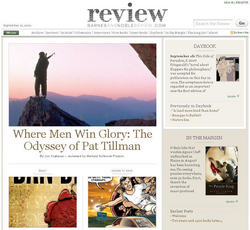 New York, NY (PRWEB) September 16, 2009
Barnes & Noble, Inc. (NYSE: BKS), the world's largest bookseller, announced today that the Barnes & Noble Review on Barnes & Noble.com is celebrating its second anniversary. The B&N Review is an online destination for readers seeking daily intelligence on the world of books, including industry-heralded book reviews, columns, interviews, and features from a wide range of established and acclaimed critics, reviewers, authors, and artists. To mark its anniversary, the Review site has a new design, expanded editorial features, and community tools.
The new community platform allows reader commenting and a full array of social network sharing options. Two new blogs are debuting as part of the re-launch:

Daybook, a daily chronicle of literary and cultural history
In the Margin, the Review's editors' blog
Popular existing Review features, such as The Long List, Five Books, and Guest Books, have also been refreshed on the new platform.
To celebrate its second anniversary, the Review is currently featuring entries from literary luminaries including:

Peter Hamill on E. L. Doctorow's new novel, Homer & Langley, based on the fabled New Yorkers, the Collyer Brothers
Former New Yorker and Random House editor Daniel Menaker's incisive look at the perilous state of contemporary book publishing, "Redactor Agonistes"
Sarah Weinman on Dan Brown's The Lost Symbol
Bestselling novelist Jennifer Weiner's take on former New York Times restaurant critic Frank Bruni's memoir, Born Round
Maud Newton on Lorrie Moore's long-awaited new novel, A Gate at the Stairs
Later this month, Ms. Weinman will join the Review's impressive roster of columnists, debuting a monthly mystery column, The Criminalist. Other popular Review columns include:

Drawn to Read, innovative illustrated book reviews by cartoonist Ward Sutton
Reading Romance by bestselling romance novelist Eloisa James
The Thinking Read by philosopher A. C. Grayling
Library Without Walls by Pulitzer Prize-winning critic Michael Dirda
Rock & Roll & by legendary music critic Robert Christgau
The Speculator by science fiction maven Paul Di Filippo
Reader's Diary by critic Brooke Allen
About Barnes & Noble, Inc.
Barnes & Noble, Inc. (NYSE: BKS), the world's largest bookseller and a Fortune 500 company, operates 774 bookstores in 50 states. Barnes & Noble is the nation's top bookseller brand for the sixth year in a row, as determined by a combination of the brand's performance on familiarity, quality, and purchase intent; the top bookseller in quality for the second year in a row and the number two retailer in trust, according to the EquiTrend® Brand Study by Harris Interactive®. Barnes & Noble conducts its online business through Barnes & Noble.com, one of the Web's largest e-commerce sites, which also features hundreds of thousands of titles in its eBookstore. Customers can buy and read eBooks on a wide range of platforms, including the iPhone and iPod touch, BlackBerry® smartphones, as well as most Windows® and Mac® laptops or full-sized desktop computers.
General information on Barnes & Noble, Inc. can be obtained via the Internet by visiting the company's corporate website: BarnesandNobleInc.com.
Become a Fan of our Facebook Page
# # #