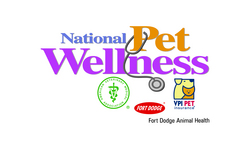 Schaumburg, Ill., Overland Park, Kan., and Brea, Calif. (PRWEB) September 17, 2009
A healthy dog or cat is no accident. It takes a commitment. It starts with regular veterinary care, including three important steps: twice-a-year wellness exams, disease prevention and pet health insurance.
Beginning in October, which is National Pet Wellness Month, participating veterinary clinics nationwide will make it easier for pet owners to help their pets live longer, healthier and happier lives through a new educational campaign - A Happy, Healthy Pet Starts With a Plan. The campaign is sponsored by the American Veterinary Medical Association, Fort Dodge Animal Health and VPI® Pet Insurance.
Just as each pet is unique, a pet wellness plan needs to be individually tailored by you and your veterinarian so it's right for your pet, not just any pet. The three-step plan includes:
1) Twice-a-Year Wellness Exams. On average, pets age seven times faster than people do, so health problems can develop in a short period of time. Wellness exams allow veterinarians to diagnose, treat and prevent health problems before they become serious. These visits are also an ideal time to talk with the veterinary team about behavior, nutrition, heartworm, flea and tick control, and other issues that can impact your pet's wellness and lifestyle.
2) Disease Prevention. Being a pet is risky business. That's why your veterinary team may conduct a risk assessment to determine your pet's exposure to various disease threats. Answers to questions about your pet's living environment, travel, interaction with other pets, behavior and health history will help your veterinarian develop an individualized vaccination and parasite control program.
3) Pet Health Insurance. When your pet's wellness exams, vaccinations and other preventive care are covered by pet health insurance, both you and your pet benefit. Pet health insurance also provides greater peace of mind - just knowing that your pet is covered when unexpected medical expenses arise.
Implementing a wellness plan for your dog or cat is important at any age. The sooner you start, the better.
For more information about pet wellness exams, disease prevention and pet health insurance, contact your veterinarian and visit http://www.NPWM.com.
About National Pet Wellness and Its Sponsors
National Pet Wellness is a clinic-centered educational campaign sponsored by the American Veterinary Medical Association, Fort Dodge Animal Health and VPI Pet Insurance. Nearly 15,000 veterinary clinics nationwide currently participate.
The American Veterinary Medical Association (AVMA), founded in 1863, is one of the oldest and largest veterinary medical organizations in the world. More than 78,000 member veterinarians are engaged in a wide variety of professional activities. AVMA members are dedicated to advancing the science and art of veterinary medicine including its relationship to public health and agriculture. Visit http://www.avma.org to learn more about veterinary medicine, animal care and to access up-to-date information on the association's issues, policies and activities.
Fort Dodge Animal Health, a division of Wyeth (NYSE:WYE), is a leading manufacturer and distributor of animal health care products for the companion animal, equine, livestock, swine and poultry industries in North America and international markets. As a committed partner to veterinary practitioners, pet owners and producers worldwide, Fort Dodge Animal Health is making a difference in the future of animal health through innovative research and product development that address current and emerging animal health needs. Key companion animal products include LymeVax®, LeptoVax™, Duramune®, CaliciVax™ and the Fel-O-Vax® vaccine lines.
VPI Pet Insurance is the nation's oldest and largest pet health insurance company. Providing pet owners with peace of mind since 1982, the company is committed to being the trusted choice of America's pet lovers and an advocate of pet health education. For more information about VPI Pet Insurance, visit http://www.petinsurance.com.
Editor's Note: Interviews with veterinarians, as well as NPWM images and logo graphic files, are available upon request.
###