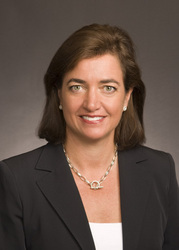 We are pleased to welcome Lindsay to the firm
Charlotte, NC (PRWEB) September 18, 2009
Charlotte, NC (PRWEB) September 18, 2009 The Bray Law Firm is pleased to announce that Lindsay Middlesworth has joined the firm in an Of Counsel capacity, and will represent clients in the firm's active business litigation practice area.
"We are pleased to welcome Lindsay to the firm," said William Bray, the firm's founding member. "Lindsay brings unique experience to our litigation practice, and is possessed with genuine 'real world' insight that we fully expect our clients will embrace and appreciate as she grows into her role."
Lindsay is a graduate of North Carolina State University and the North Carolina Central University School of Law. She served as a prosecutor in the Wake County District Attorney's Office from 1996 to 2000, after which she opened her own firm in Raleigh where she practiced in both the civil and criminal courts. From 2006 through early-2009 Lindsay owned and operated a residential construction company in Charlotte which specialized in custom homes.
The Bray Law Firm's litigation practice constitutes approximately 50% of the firm's overall work. It practices in both the state and federal courts of North Carolina and South Carolina. Lindsay will work in matters such as the enforcement of mechanic's liens on behalf of contractors and subcontractors, shareholder disputes in closely-held businesses and general commercial litigation on behalf of the firm's entire client base.
Now in its seventh year, The Bray Law Firm (http://www.braylaw.com) is a four-attorney, boutique business law firm specializing in the representation of small to mid-size companies throughout the Carolinas, which it assists in matters ranging from incorporation to mergers and acquisition. In addition to its general corporate practice, the Bray Law Firm is one of the few firms in the country with a dedicated emphasis to representing clients in NASCAR and motorsports.
For more information on this release or The Bray Law Firm, please contact William Bray at (704) 523-7777.