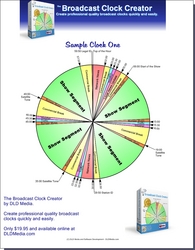 Coppell, TX (PRWEB) September 17, 2009
For years broadcast professionals have planned each hour of the day by drawing a circle on a piece of paper using a protractor and dividing up the hour using a ruler. They would then decide when to take commercial breaks, when to air traffic and weather reports and so on.
This was not a professional way to create a show clock and if a mistake was made, the process had to start over. The only other option was to purchase expensive graphic software and then ask the graphics department for help - and hope to receive the clock on time.
That's why DLD Media developed The Broadcast Clock Creator.
•Create a Variety of Broadcast Show Clocks.
•Easily Add, Remove, Insert and Adjust Segments.
•Custom Colors and Fonts for Text and Segments.
•Modify the Styles, Layout and Appearance.
•Adjust Comments Inside or Outside of the Clock.
•Add and Modify Text Boxes.
•Insert Images and Logos.
•Export to PDF for Websites.
•Save Clocks for Future Use.
...and more!
Program changes can occur quickly and The Broadcast Clock Creator was developed by a broadcaster with day to day operations and programming needs in mind. Its high quality, versatile design will allow anyone to quickly and easily create broadcast clocks for use on the web, sales calls, staff training and for program changes.
The best part is that once a clock has been created, it can be saved for any future revisions or printouts, and all clocks can be exported to a PDF file for mass distribution and for displaying on websites. All of these features, plus a dedicated support network, make The Broadcast Clock Creator perfect for local or syndicated broadcasts!
Throw out the protractor and ruler and order a copy of The Broadcast Clock Creator today for only $19.95!
Copyright - 2009 The Broadcast Clock Creator - All Rights Reserved - DLD Media & Software Development.
DLD Media & Software Development
http://www.dldmedia.com
(641)-715-3900 Ext. 54826#
# # #