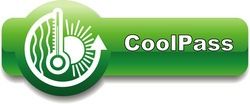 carbon trading is the next market to explode like telecom and internet did in the '90s, driven by enormous demand which may soon outstrip supply.
Buffalo, NY (PRWEB) September 17, 2009
CoolPass, Inc. was recently purchased by and is now a wholly-owned subsidiary of A1 Technology Group, Inc. (AOTY) which is traded on the OTC Pink - Grey Markets. The Company has plans to quickly upgrade its listing and commence full reporting.
According to the New York Times, "carbon trading is one of the fastest growing specialties in financial services", currently a $30 billion market that could grow to $1 trillion within a decade. The U.S. retail trading market alone was estimated at $1.5 billion in 2008, and projected to grow by over 200% per year, according to a recent report by Ecosystem Marketplace, New Carbon Finance.
CoolPass retails carbon offsets to consumers at its online store, and has deployed direct marketing sales forces in Europe and Asia to attract the business and investment communities.
AOTY and its CoolPass subsidiary are lead by Jeffrey Chaskin, a serial entrepreneur and former President and COO of NASDAQ company Ursus Telecom. Chaskin, previously a senior executive at two other publicly traded companies on the OTC and Toronto Stock Exchange, believes "carbon trading is the next market to explode like telecom and internet did in the '90s, driven by enormous demand which may soon outstrip supply."
With a Kyoto-like cap and trade soon destined for the US, and the newly legislated Australian compliance market just getting started, the company believes that there may be unlimited growth on the near-term horizon. "Creating a market for carbon as a fungible, tradable commodity has accelerated the growth of renewable energy," said Chaskin, "providing the financial foundation for projects that are not yet economically self sustaining. Even if the science is wrong, you cannot ignore the collateral environmental benefits."
CoolPass maintains an online registry of all of the carbon offset certificates it trades, and tracks the prices of carbon products in both the voluntary and compliance markets around the world.
A1 Technology and its CoolPass subsidiary are in the final phases of training and deploying an international direct market sales force of over one hundred agents, and expect to begin generating significant revenues from those efforts within the next 30 days.
Company Contact:
Jeffrey Chaskin, CEO
http://www.a1technologygroup.com
This document contains 'forward-looking statements' within the meaning of the 'safe-harbor' provisions of the Private Securities Litigation Reform Act of 1995. Such statements involve known and unknown risks, uncertainties and other factors that could cause the actual results of the Company to differ materially from the results expressed or implied by such statements, including changes from anticipated levels of sales, future national or regional economic and competitive conditions, changes in relationships with customers, access to capital, difficulties in developing and marketing new products, marketing existing products, customer acceptance of existing and new products, and other factors. Accordingly, although the Company believes that the expectations reflected in such forward-looking statements are reasonable, there can be no assurance that such expectations will prove to be correct. The Company has no obligation to update the forward-looking information contained in this document.
###