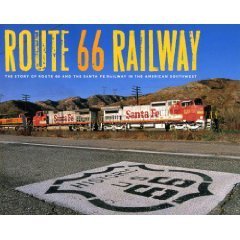 While many books have told the individual stories of the Santa Fe Railway and Route 66, this is the first to focus on their relationship--it's filled with history, drama, pop culture and fun
San Bernardino, CA (PRWEB) September 17, 2009
Author Elrond Lawrence will be signing copies of his book Route 66 Railway at the 20th Annual Stater Bros. "Route 66 Rendezvous" car show in San Bernardino, California.
The signing will take place from 10 a.m. to 5 p.m. on Saturday, September 19, at the "Our Town" booth on Third Street near City Hall. The downtown event attracts 1,900 classic cars and 500,000 attendees. For more event details, visit http://www.route-66.org/.
Published by the Los Angeles Railroad Heritage Foundation, Route 66 Railway mixes colorful photography and history to explore the 82-year relationship between U.S. Highway 66 and the Santa Fe Railway (now BNSF Railway). The hardcover is by award-winning photographer and writer Elrond Lawrence. His vibrant color images and essays are the heart of the book, taking readers to a land where modern and vintage trains race past neon cafes, tourist traps, motor courts, railroad depots and more.
More than 250 photographs illustrate the story of these unlikely partners from California to New Mexico. Enhancing the book are maps, historic photos and an engaging text that charts the beginnings of both railroad and highway and examines their rise, fall and rebirth.
"While many books have told the individual stories of the Santa Fe Railway and Route 66, this is the first to focus on their relationship--it's filled with history, drama, pop culture and fun," said Lawrence. "This is a book not only for fans of trains and roadside America, but for history buffs and people who love the Southwest."
The opening history chapter, "Two Men Named Cyrus," is followed by individual chapters on California, Arizona and New Mexico. A brief chapter covers the Midwest states and the various railroads that encounter the highway between New Mexico and Chicago. The book concludes with a stirring photographic essay titled "The Ghost of Tom Joad."
"Lawrence is a master photographer and each page is stunning in its visual content," wrote Bob Moore, editor of Route 66 Magazine, in a recent review. The book has received universal praise and plans are underway for a second printing.
To reach Lawrence, call 831-757-9100 or email elrondlawrence(a)surfbest.net.
Route 66 Railway retails for $49.50; books can be ordered from the Los Angeles Railroad Heritage Foundation at http://www.larhf.org/store/index.html ($6 shipping in US, CA residents add 8.25% sales tax), or through selected booksellers and retailers. LARHF is located at 1500 W. Alhambra Road, Alhambra, Calif., 91801; E-mail: info(a)larhf.org; Phone: 626-458-4449.
This press release was distributed through eMediawire by Human Resources Marketer (HR Marketer: http://www.HRmarketer.com) on behalf of the company listed above.
###