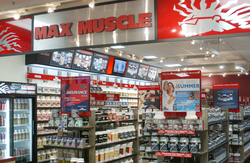 It's a most interesting paradigm
Anaheim, CA (PRWEB) September 17, 2009
There is no question that today's biggest concern in our nation's Capitol is health care reform. Aside from the political ramifications of the day to day news from Washington, the underlying crisis is one of cost for the average American to receive health care should they need it. What Americans have come to realize is that preventative measures are superseding the need for health care and more and more people are beginning to properly supplement their lives with proper nutrition, supplementation, and exercise. They're turning to Max Muscle Sports Nutrition stores across the country.
"It's a most interesting paradigm," said Patrick Sanders, President, Retail Store System for Max Muscle Sports Nutrition. "At the same time this is happening, the economy has severely altered the outlook of people from all walks of life who now realize they have very little control of their professional futures and it is that group of people who see the amazing opportunity of owning their own Max Muscle franchise. You have the majority of people who are now seeking better health avenues, and you have another seeking to serve that audience."
In the past month alone Max Muscle Sports Nutrition franchises are opening in new territories such as Connecticut and Tennessee, major markets such as Seattle and Dallas are not only adding stores, but applications for new stores have grown to levels never seen by the company in its nearly two decades of existence.
According to multi-store owner and Regional Director Kristin Wood in Manassas, Virginia, the reason is simple.
"It was so clear, after looking to get out of my past professional position and looking at so many franchise opportunities, that Max Muscle was the right decision," said Wood, who is about to open her second store in Fairfax, Virginia. "My decision was based on the vision of the company, the integrity of the individuals that work there and throughout the system, and their leadership team. They have a really strong sense of what this company is about and it is so honorable as to what it is looking to contribute to our country, and to my partner and I as individuals and as a community, it is a privilege to be a part of it."
C-Level Executives comprise the largest section of new store ownership at Max Muscle Sports Nutrition. In the past month senior executives from companies such as PepsiCo, Frito-Lay, Fujitsu and others have left their professions and garnered control of their own.
"Even after the application has been taken online at http://www.maxmusclefranchise.com, and they've come to meet us at our headquarters in Anaheim, and they've shown their value financially, they're not necessarily awarded a franchise," added Sanders. "We're looking for a distinct kind of person or couple. We're looking for passion…true, honest, compelling passion. At a recent convention of all our franchisees we asked for volunteers to film answers to questions about ownership of a Max Muscle Sports Nutrition franchise and we had to limit the volunteers because the response was overwhelming. We've added their responses to our website so that others could witness - unedited - what we call "The Passion Behind The Brand."
"People don't want to be sold…they want to be educated," said Sanders. "Education comes from relevant content delivered from credible sources. When those sources are saturated in integrity, the process feeds itself and I truly believe that is the reason so many people are turning to franchise ownership and specifically turning to Max Muscle Sports Nutrition."
For more information about Max Muscle Sports Nutrition franchise opportunities, or to witness the 'Passion Behind The Brand', and to inquire about owning your own Max Muscle Sports Nutrition store, view http://www.MaxMuscleFranchise.com Max Muscle Franchise.
# # #