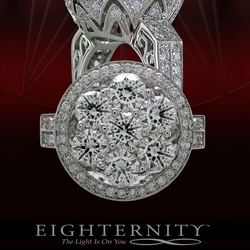 It has been a pleasure to work closely on this project with Kalpesh Jhaveri and his team at K.R. Gems. We are delighted to offer this cutting edge diamond product through our worldwide distribution channels
Los Angeles, CA (PRWEB) September 18, 2009
The LA VIE Group, Los Angeles and La Vie Premium, Hong, Kong, announced today that they will debut the patented 'Eighternity Cut' diamond and bridal collections at the upcoming 2009 Hong Kong Jewellery Fair, September 23-27. Eighternity by Daniel C, is featured as a brand under the umbrella of The LA VIE Group, and part of the "Destiny" bridal theme.
"It has been a pleasure to work closely on this project with Kalpesh Jhaveri and his team at K.R. Gems. We are delighted to offer this cutting edge diamond product through our worldwide distribution channels," said Lo Huang, Chairman and CEO of The LA VIE Group.
Eighternity diamonds have the same diameter as 'ideal' cut diamonds, but are considered super ideal cut because of the unique pattern created by the design of the facet arrangements. The patented 81 facet design provides superior light performance, fire and brilliance, which are clearly visible to the eye. This unique pattern shows double arrows and flowers when viewed under a scope, and the worldwide design copyrighted Eighternity cut is considered by diamond experts to be the next generation 'hearts and arrows' diamond. Each diamond one half carat and above is laser inscribed and accompanied by a Gem certificate from GIA, a light performance certificate from GEMEX and an Eighternity scope to view the pattern.
"The Eighternity diamond is the most beautiful of all the premium cut diamonds. Our customers love it. The Eighternity is truly the next generation of diamond cutting," said James R. Van Winkle, GG, AJP, Americus Diamond, TX, the largest diamond engagement ring store in the United States.
"We are thrilled to align with Lo Huang, LA VIE and their talented and experienced team. Daniel C has been inspirational in designing around the Eighternity diamond to create a fantastic new bridal and fashion collection. We look forward to great things ahead," said Kalpesh Jhaveri, CEO of K.R. Gems, Los Angeles.
The LA VIE Group, created by Super Bell Jewelry and UNITED BRANDS LLC, is an industry coalition of manufacturers, designers and consumer brands.
In August, 2009, JCK Magazine awarded The LA VIE Group with a JCK Las Vegas 2009 Best-of-Show Award for Best New Partnership. The company's products and brands are offered through a network of 4000 independent retail stores in North America, South America and the Caribbean. The company distributes to over 80 countries from its Hong Kong operations.
Featured LA VIE designers include Award-winning Celebrity Designer and icon Alan Friedman, legendary DeBeers Diamond Award-winner Jose Hess, Eclectic Hong Kong designer Daniel C, and LAMONT, Designer of Mirabelle 18k and Techline.
LA VIE brands include Legacy by Oved Anter, Barbie Rocks by Layna and Alan Friedman, Eighternity by Daniel C. and Spartan for Men. For info please contact: info (at) TheLaVieGroup (dot) com or visit TheLaVieGroup.com
The LA VIE brands can be viewed at the International Debut of the LA VIE PREMIUM booth at the Hong Kong September Jewellery and Gem Show, September 23-27, Premium Pavilion, booth # 1D509. For registration, to view the Legacy Collection and further information please visit LaVieForever.com
La Vie Premium Ltd is an affiliate of Super Bell and member of The La Vie Group. Super Bell will display in Hall 3 Booth# 3C226, C228, C325, C327.
###