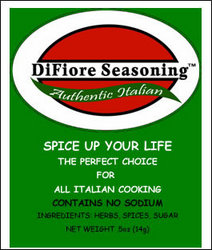 Atlanta, GA (PRWEB) September 18, 2009
DiFiore Seasoning has added Italian Sausage Seasoning Mix to its product line. Additionally, DiFiore Seasoning has instituted a wholesale division designed to serve the restaurant, boutique grocery, gift shop and institutional food service industries.
Like all DiFiore Seasoning products, the new Italian Sausage Seasoning Mix contains no sodium, no MSG and no preservatives. The Italian Sausage Seasoning Mix is available in both MILD and HOT versions. Each package is custom blended and designed to season 25 pounds of pork, beef, chicken, turkey or venison. The sausage seasoning was developed to meet the needs of customers who enjoy making their own Italian sausage in addition to meeting the needs of meat processors. Custom packaging has been made available to wholesale customers.
The Sausage Seasoning Mix joins the Authentic Italian Seasoning packets as part of the company's product line. The DiFiore Seasoning packets are ideal for seasoning meat and seafood dishes in addition to being a base seasoning for pasta sauce, pizza sauce, Italian salad dressing and bread dipping sauces. The seasoning can also be used in a marinade or as a dry rub.
DiFiore Seasoning's wholesale division has been established to meet the growing needs of retail establishments along with other commercial users. Both the foil lined Authentic Italian Seasoning packets and the new Italian Sausage Seasoning Mix are available to wholesale customers.
Founded in 2007 and launched in March of 2008, DiFiore Seasoning was founded by descendants of Julio and Josephina DiFiore who immigrated to the United States from their native Italy in 1900. The Internet based company's goal is to offer consumers a blend of herbs and spices with authentic Italian flavor. The seasoning blends are based on old world family recipes. The company's distinctive foil lined packets have become the mark of freshness.
###