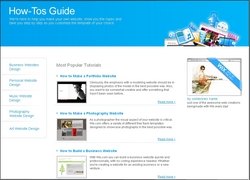 New York, NY (PRWEB) September 19, 2009
Wix, a rising star in the field of website builders and Flash template designs has recently launched a new tutorial website covering a range of topics relating to web design. The goal of these tutorials is to help non-professionals design their own website using the various Flash template designs available on the Wix website.
As a leading player in the international web design market, Wix is always searching for creative ways to remain on the cutting edge and provide its users with added value. This new tutorial website is an ever expanding project and its purpose is to help Wix users optimize their Flash template designs. The tutorials will be adapted to provide both technical information on using the Wix website builder, as well as design tips and guidelines.
This How To web design tutorials cater to the needs of both new and experienced Wix users as well as anyone interested in learning more about designing websites. Wix is an intuitive editor that utilizes a friendly and welcoming interface that is both easy to learn and fun to use. This opens a world of possibilities for a large public that is becoming more and more immersed in the internet, but is not versed in coding languages and technology. The Wix application brings web design to the general public and aims to ensure this public has all the knowledge they need to feel comfortable and express their own creativity. This is where the How To tutorials come in, offering technical and design assistance.
Avishai Avrahami, CEO of Wix sheds some light on the direction which the company is taking,
"Providing our users with a welcoming platform where they can find answers to questions on any aspect of their online presence is of the upmost importance. Our users themselves suggested many of features that Wix is currently implementing. Keeping in touch with our users needs is at the top of our list of priorities."
The 'How To' website will stay attuned to the users' needs and demands, focusing on popular web design styles, all the while remaining open to different contributions, comments, questions, directives and even complete tutorials written by experienced users and visitors.
Wix was established in 2005 and has its headquarters in NY and offices in Tel-Aviv. It is backed by Mangrove Capital Partners and Bessemer Venture Partners. More information on can be found at Wix.
###