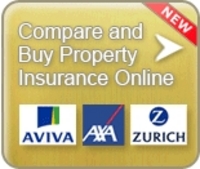 (PRWeb UK) September 29, 2009
Stride Limited, a respected name with over 30 years experience within the property insurance market, today launches its new online quote process, which allows landlords to compare and buy property insurance online at http://www.stride.co.uk.
The new site, a rarity amongst other commercial insurance brokers, has been developed by Stride Limited after recognising a gap in the market for a comparison website for landlords property insurance.
Claire Wilson, Commercial Development Manager, Stride Limited says of the new site:
"When we buy our personal lines insurance, we are used to being able to choose from an array of insurers. Our aim has been to emulate this; our clients can now visit our website and we will check cover details and prices from our panel of leading commercial insurers. Landlords are able to insure a portfolio of up to 5 properties online. This simplifies what has historically been an arduous process, having to visit many different websites or ring round brokers for quotes. Crucially, our clients are able to make an informed decision about the policy they are purchasing and make sure that it is the most suitable for them."
With the deluge of so-called "unplandlords" or "accidental landlords" hitting the UK property market over the last year, the need for affordable property insurance for landlords will increase.
David Salusbury, Chairman of the National Landlords Association (NLA) recently commented of the phenomenon:
"People still need a roof over their heads. We hear that rental demand will remain strong, although there is anecdotal evidence that rents being achieved are reducing, and we hear of more property coming on to the market as a result of the so-called accidental landlords who are unable to sell their property and have decided to rent it out."
It seems as though Stride's endeavours have come at the right time. With more people looking for buy-to-let property insurance, a fresh approach to broking and ease of purchase has never been more essential.
In fact, Stride's forward-thinking approach has already raised a few eyebrows in the Buy-to-Let industry. The scale of the website development has seen Stride short listed for the 'Innovation' and 'Insurance Services' categories at the 'Landlord & Buy-to-Let Awards 2009'; the 'Oscars' of the industry.
Oliver Romain, head judge for the Awards and editor of Landlord & Buy-to-Let magazine, the leading magazine for the residential letting sector, says:
"We've had a terrific response and Stride Limited has done brilliantly to get short listed. The private rental sector gets a tough time in the media, however, the vast majority of people have a positive experience and it's great that we have the opportunity to recognise and reward the best in the industry".
Richard Lovegrove, Managing Director at Stride notes that despite recognition and early success in the launch, complacency in this market is not an issue:
"Stride have been successful in the commercial and residential property insurance market for many years; we have always strived to provide a fantastic service so we won't be resting on our laurels. There are a still a large number of new landlords out there that require assistance when it comes to getting insurance for the first time and we have the experience and range of policies to meet their needs."
It is important that landlord's assets are fully protected to ensure that there are no unwanted hiccups in running their business and Stride can help. By offering high levels of service combined with competitive prices, Stride delivers the complete insurance package for landlords. This is now available online at: http://www.stride.co.uk/commercial-quote/ or by phone on 0800 840 6699.
Notes to editors:
1. Stride Limited offers insurance cover for a wide range of commercial property such as blocks of flats; high value housing and let properties.
2. Stride Limited is an independent insurance broker established on the South Coast since 1973. In addition to operating commercial insurance broker Stride, Stride Limited also trades as Computer Quote, now selling motor; home; van; pet & travel insurance by phone and online via http://www.computerquoteinsurance.com
3. Stride has a total Gross Written Premium (GWP) of £15 Million and employs over 55 staff.
4. For more information contact:
Richard Lovegrove
Managing Director, Stride Limited
richard.lovegrove(at)stride.co.uk
Tel: 023 9224 8761
Mob: 077 3606 9151
Fax: 023 9224 8769
Jonathan Walker
Marketing Director, Stride Limited
jonathan.walker(at)stride.co.uk
Tel: 023 9224 8730
Mob: 079 7035 4202
Fax: 023 9224 8769
Stride Limited t/a Computer Quote Registered in England No. 1122247.
Registered Office: 101 London Road, Cowplain, Hampshire PO8 8XJ.
Stride Limited is authorised and regulated by the Financial Services Authority.
###