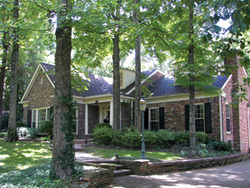 An event of this magnitude is exciting for a neighborhood like Belle Meade, and we can't wait for October 10.
Nashville, TN (PRWEB) September 29, 2009
The Rose Auction Group, LLC, one of the nation's leading auction firms, has announced a rare exclusive auction for a traditional-style home in a prominent Tennessee neighborhood on October 10.
The 6,387+/- square foot property at 405 Westview Dr. in Nashville is located in the heart of the sought-after Belle Meade neighborhood of Nashville. While the Rose Auction Group does more than 400 properties a year, CEO Beth Rose said the Westview property should be one of the year's most anticipated auctions.
Rose said: "An event of this magnitude is exciting for a neighborhood like Belle Meade, and we can't wait for October 10."
It's easy to understand the excitement over the property with just one glance. The four bedrooms, three full and two-half bathroom property features three beautifully mantled fireplaces, a beautiful brick exterior and resides on a 1.18+/- acre lot.
If location is important, the Belle Meade neighborhood in Nashville offers some of the highest concentration of physicians, musicians and professionals in the South with the amenities to match. This includes superior schools and medical facilities within a short drive. Access to interstates, shopping and the Nashville's vibrant downtown only adds to the auction's intrigue.
With two well-attended open houses already past, one more open house is scheduled so real estate agents and the general public get to see first hand the beauty of the property.
The open house date is: October 3rd, from noon until 4 p.m.
Auction registration is October 10 at 1 p.m. at the Cumberland Room located in the Hillwood Country Club (6201 Hickory Valley Rd. in Nashville), with the bidding beginning at 2 p.m.
For more information on the Rose Auction Group or the particular Nashville auction or the property, visit the RoseAuctionGroup.com.
About Rose Auction Group
The Rose Auction Group is one of the nation's premier real estate auction firms. Featuring more than 400 auctions per year. The 2nd generation auctioneer, Beth Rose, has won many awards including 2009 Michigan State Auctioneer Champion. For more information, visit http://www.roseauctiongroup.com.
877-696-7653
###