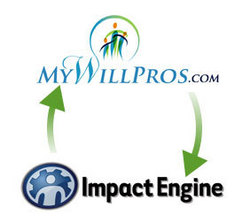 We are very excited to launch our online display advertising campaign on the Impact Engine platform
San Diego, CA (PRWEB) September 18, 2009
Impact Engine, the advertising technology company that pioneered display ad campaign performance optimization, continues to create industry buzz by launching MyWillPros.com on the ImpactEngine.com display advertising platform. The new Impact Engine online display ad creation and optimization solution has already attracted a number of leading national and regional advertisers, advertising agencies, publishers, and ad networks.
"As more and more consumers trust Internet-based services with critical tasks such as wills and estate planning, it is great to see a service like MyWillPros.com enter the marketplace," said Neil Greer, CEO of Impact Engine. "Offering more than just online will preparation, MyWillpros.com offers clients peace of mind. Unlike lesser offerings, Mywillpros.com makes sure each will created with their service is reviewed by qualified attorneys in the client's local market. We are pleased MyWillPros.com has chosen our ImpactEngine.com platform to launch and optimize their nationwide online display efforts."
Impact Engine is providing MyWillPros.com with campaign and ad optimization services; enabling the client to efficiently scale the reach of its online advertising program. By preparing and optimizing multiple ad versions for the client, Impact Engine delivers scale to MyWillPros.com marketing efforts; enabling Mywillpros.com to free up more budget for media spending.
MyWillPros.com launched their campaign on September 15, 2009, on five initial online sites chosen by the company. Impact Engine's real-time optimization algorithms test the ad creative concepts and optimize in real-time, delivering actionable when it counts.
"We are very excited to launch our online display advertising campaign on the Impact Engine platform," said Eric Blazak, President of MyWillPros.com. "There is no easier, more cost-efficient way to launch a high quality banner ad campaign. From design, to content, to placement, Impact Engine is hard to beat at any price."
Impact Engine is certified as a third party rich media vendor by both Yahoo! and Google, as well as hundreds of individual websites and online publications. For more information about Impact Engine's online display advertising creation and optimization solution, please contact Ellie Krausova at 858-412-8531 or visit http://www.impactengine.com.
About Impact Engine
Impact Engine is the leading display ad business optimization company for the online advertising industry. The company is focused on delivering efficiencies, scalability and increased ROI to Publishers, Advertisers and Agencies alike. The firm was founded by an experienced team of interactive ad agency principals, rich media veterans, and software professionals. Impact Engine enables publishers, advertisers, ad agencies, and ad networks of all sizes to leverage the fast growth and opportunities presented within the online display advertising space.
About MyWillPros.com
MyWillPros.com was co-founded in 2008 by two attorneys in upstate New York with over 30 years of combined experience in estate planning and administration. MyWillPros.com provides clients the convenience of an online will, combined with the protection of a local attorney, from the comfort of the client's home. The administration at MyWillPros.com hand-picks only the most competent and reputable attorneys in the field of wills and estates from across the country. These attorneys work one-on-one with each new clients either face-to-face or over the phone, ensuring that all of the client's wishes are documented properly and in a timely and exact manner.
###