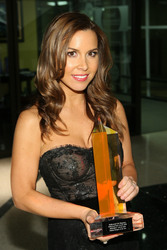 FIDM allowed me to pursue my dream. I simply cannot thank them enough.
Los Angeles, CA (PRWEB) September 18, 2009
Alumni from FIDM/Fashion Institute of Design & Merchandising's advanced programs in Fashion Design and Film & TV Costume Design are a big hit in the entertainment industry where they research, source, and create costumes for film and television.
Over the past year, graduates from FIDM, the West Coast's premier fashion design school, have worked as costume designers on a variety of projects ranging from Steven Spielberg's "Tin Tin," Tim Burton's "Alice In Wonderland," and Drew Barrymore's "Whip It," to hit TV shows like "Chuck," "The Starter Wife," "So You Think You Can Dance," "The Cleaner," and "America's Prom Queen."
"InStyle Magazine" recently asked celebrity designer and FIDM Fashion Design alumna Monique Lhuillier and eight other designers, including Max Azria, Badgley Mischka, and Zac Posen, to design a wedding dresses for the "Twilight" saga's popular protagonist Bella. Lhuillier's gown, inspired by an elegant look from the 1920's, featured a mermaid-style silhouette with a high neck, cap sleeves, silk sash, and lace detailing. "People Magazine" called the dress "breathtaking" and "Twilight" fans have also lauded her work, referring to Lhuillier's gown as "stunning" and "romantic." The renowned designer has dressed many celebrities throughout her career, including Scarlett Johansson, Angelina Jolie, Sarah Jessica Parker, and Reese Witherspoon.
Patricia Nevil and Corina Lewinzon, FIDM Fashion Design program graduates and the owners and founders of L'ezu Atelier in Beverly Hills, were commissioned to create a special gown--and provide 15 others from their current collection--for Fox's acclaimed new show "Glee."
FIDM Film & TV Costume Design graduate Michelle Liu also stepped into the spotlight recently as the key costumer on Tim Burton's upcoming film "Alice In Wonderland," starring Anne Hathaway and Johnny Depp. A native of Beijing, China, Liu has already worked with several great directors, including James Cameron and Steven Spielberg. Today, Liu speaks adamantly about the impact of FIDM on her successful career, stating, "FIDM allowed me to pursue my dream. I simply cannot thank them enough."
Students in FIDM's Film & TV Costume Design program study all aspects of the craft, from cinematic history and script analysis to costume illustration and design while students in the Fashion Designing program learn how to conceptualize, create, and present a fashion line.
###