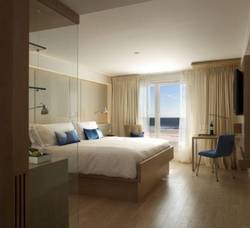 LONG BEACH, N.Y. (PRWEB) September 19, 2009 -
Allegria Hotel & Spa Owner, Allen Rosenberg, has announced the luxury property's soft opening. Allegria is located less than 30 miles from Manhattan on the south shore of Long Island and is the area's first oceanfront hotel west of the Hamptons. A translation from the Italian word for joy or happiness, Allegria also happens to be the name of Rosenberg's mother. Deluxe accommodations, cuisine by famed chef Todd Jacobs, oceanfront weddings, enticing libations and an ideal backdrop for corporate retreats and meetings, are just a few of Allegria Hotel & Spa's offerings.
During Allegria's soft opening, a select number of its 112 guestrooms and 31 premium suites are available. The highly anticipated Atlantica Restaurant & Bar, featuring the cuisine of Executive Chef Todd Jacobs, is also taking reservations. Adjacent to Atlantica, the hotel's stylish L'Onda Lounge, serving an assortment of specialty cocktails and an extensive wine list, is open to guests as well. Guests can also take advantage of the hotel's 200-person ballroom and three meeting rooms for weddings, events and corporate meetings. The hotel's beach concierge, offering chairs, umbrellas, towels and refreshments as well as assisting with surf rentals, is on hand to allow patrons the chance to soak up the season's final rays. The property's fitness center with ocean views and a yoga room are both open. Allegria Hotel & Spa's rates start at $229 per night, based on double occupancy.
Guestrooms are designed in a white and sand color palette, with driftwood and periwinkle accents. Bathrooms are finished in limestone with a spa-like shower and include signature marine-based skin and hair products. Rooms are equipped with high-definition LCD televisions, luxurious 400-threadcount sheets and towels woven from plush Egyptian cotton. All accommodations have Juliet balconies to let in sea breezes.
The property's signature restaurant and bar, Atlantica, features robust yet sophisticated American cuisine. It relies largely on locally grown and organic ingredients, a component of Jacobs' 'close-to-door' philosophy. Jacobs draws on seasonal flavors with dishes from the "Sea" portion of the dinner menu that include Pan Seared Local Sea Bass with Chili Lime Beurre Blanc served alongside Local Organic Greens Sautéed with Garlic and Crisp Corn Polenta or the Charbroiled Organic Scottish Salmon with Lemon-Caper Vinaigrette and accompanied by Grilled Vegetables and Organic Brown Rice. Other culinary creations showcased under the menu's "Earth," "Starters" and "Desserts" are equally tempting and represent Jacobs' mastery of innovative American cuisine. The 143-seat space, with an additional private dining room featuring a chef's table for up to 16, is open for breakfast, lunch, dinner and Sunday brunch.
L'Onda Lounge - meaning "wave" in Italian - features a large double-sided fireplace clad in mirrors, 24-seat communal table, outside terrace service, circular bar made of glass mosaic and floor-to-ceiling windows overlooking the Atlantic Ocean and Long Beach's iconic boardwalk, making it the quintessential setting for waterfront play or cocktail parties. Guests may choose from an eclectic list of cocktails and a menu of 100 wine varietals, many of which are organic and biodynamic. With 15 wines offered by the glass, selections will hail from the North and South Fork wineries as well as international vineyards.
Meetings, events and weddings are well underway at Allegria. The hotel's 3,182 square-foot grand ballroom can accommodate up to 200 guests and be broken down for more intimate soirees. Three meeting rooms situated on the third floor - Madison, Park and Lexington Suites - are ideal for breakout sessions. A dedicated staffer, skilled in orchestrating functions for social and corporate clients, is assigned to each event to ensure a smooth agenda from start to finish. The property's location on the Atlantic Ocean affords the added bonus of hosting special events on the beach. Chef Jacobs' team oversees all catering for events and creates a truly unique experience for all.
The Allegria Spa, opening in the first quarter of 2010, will operate under the direction of New York spa impresario Joseph Christopher, well-known in the community for his other award-winning spas on Long Island. Featuring breathtaking ocean views, as well as an extensive line of soothing treatments and body rituals, the 10,000 square-foot roof-top spa will envelop guests in ultimate tranquility and pampering. The highlight of the rooftop area, an infinity-edge pool heated year round, will also open in 2010 along with a casual poolside dining venue, Jacks on the Rocks. It will serve light spa fare and organic juices and smoothies, all prepared under the direction of Chef Todd Jacobs.
Once a popular summer resort town for the Northeast region, Long Beach has a rich history as a tourist destination. In the late 1990s, developers began investing in the city's waterfront, and today, old hotels situated along a two-mile-long boardwalk have morphed into luxury condominiums. Allegria Hotel & Spa represents the redesign of an existing seven-story, oceanfront structure.
For more details on Allegria Hotel & Spa or to make reservations, call toll-free 1-888-ON-BEACH (662-3224) or visit http://www.AllegriaHotel.com.
About Allegria Hotel & Spa
Opened September 2009, Allegria Hotel & Spa is a beachfront luxury hotel located less than 30 miles from Manhattan. Accommodations include 112 guestrooms and 31 luxurious suites, a roof-top, infinity-edge pool and spa by Joseph Christopher, inventive American cuisine by Todd Jacobs and state-of-the-art meeting space. Also a short drive from New Jersey, Connecticut and Pennsylvania, the hotel will be ideal for mid-week business/corporate retreats, close-to-home family vacations, weekend luxury escapes, romantic getaways and destination weddings. Allegria Hotel & Spa is LEED certified and a member of Small Luxury Hotels of the World. The property is managed by Access Hotels & Resorts. For more information please visit http://www.allegriahotel.com, http://www.slh.com, http://www.accesshospitality.com
Media can also visit http://www.louhammond.com for latest press releases and images. Follow on Twitter at http://www.twitter.com/LouHammondPR.
###