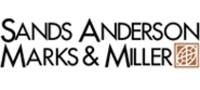 Our group continues working to ensure that its transition to independence will be a seamless, service-enhancing change from the clients' point of view. The entire team -- lawyers, paralegals and staff -- has eagerly embraced this new adventure and the opportunities that come with it
Richmond, VA (PRWEB) September 17, 2009
The Workers' Compensation Practice Group at the law firm of Sands Anderson Marks & Miller, P.C. will be spun off from the firm as a separate shareholder-owned company and plans to become completely independent later this year, firm president M. Pierce Rucker announced today.
"This step, consistent with our most recent strategic plan, occurs through a process common in the corporate world, but rare among law firms," said Rucker, "and represents an innovative and exciting business growth model developed by the shareholders of the Workers' Compensation group and Sands Anderson's Board of Directors."
"We're thrilled to have this chance to chart our own course," Cecil H. Creasey, chair of the Workers' Compensation group, said. The practice group, with the law firm's blessing and support, began planning for this change months ago, with client service as the focus.
"Our group continues working to ensure that its transition to independence will be a seamless, service-enhancing change from the clients' point of view. The entire team -- lawyers, paralegals and staff -- has eagerly embraced this new adventure and the opportunities that come with it," Creasey explained.
"Taking control of their own costs and revenue will enable this very busy group of lawyers and workers' compensation professionals to maintain the flexibility and agility necessary to effectively meet their clients' needs, while allowing Sands Anderson to continue focusing its resources and efforts on the practice areas identified in its strategic plan," said Rucker. The Worker's Compensation firm will have offices in Richmond and the New River Valley and employ 25 to 30 people. Sands Anderson Marks & Miller, P.C. will continue to operate all five of its present offices.
Founded more than 150 years ago, Sands Anderson has 75 North Carolina and Virginia lawyers practicing among its offices in Richmond, Blacksburg, Fredericksburg and McLean, Virginia, and the Research Triangle of North Carolina. In 2009, it ranked 7th in the Virginia Lawyers Weekly's annual listing of the state's largest law firms. Sands Anderson provides a full range of legal services to corporations and businesses, healthcare providers, financial institutions, state and local governments, the insurance industry and individuals. For more information, visit http://www.SandsAnderson.com.
For further information contact:
Russell Lawson
Director of Marketing
(804) 783-6799 (Office)
(804) 240-8862 (Mobile)
RLawson (at) SandsAnderson (dot) com
###