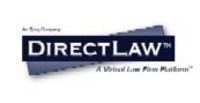 virtual law firm in a box
Palm Beach Gardens, FL (PRWEB) September 21, 2009
Due to the current economic environment, many lawyers and recent law school graduates are considering going out on their own to start up a solo practice. In response to the need for a low-cost solution for lawyers who are just starting up their solo practice, DirectLaw, Inc. today announced a heavily discounted program for its DirectLaw Virtual Law Firm Platform . The new program is for New Lawyers during the first twelve (12) months after they are admitted to bar membership and experienced attorneys who are planning to resign, or have recently resigned, from their employer to start a new law firm as a solo practitioner.
"The present recession is battering the legal profession, including dismal job prospects for graduating law school students," said Richard Granat, president and founder of DirectLaw and co-chair of the eLawyering Task Force of the Law Practice Management Section of the American Bar Association. "Web-savvy lawyers starting a solo practice in the current market are looking for new competitive strategies to gain an advantage over older, more established law firms. One strategy is to create a virtual law practice that combines low overhead costs with potential high profit margins."
DirectLaw enables solo practitioners and small law firms to service consumers and compete technologically with larger firms by using Web-enabled automated document assembly that can be bundled with legal advice. Clients are charged a fixed fee, rather than billed by the hour, and purchase legal services online using a credit card.
A software as a service (SaaS) turnkey solution, the DirectLaw Virtual Law Firm Platform is a "virtual law firm in a box" for attorneys who want to "put their practice on the Web" without having to install software or maintain hardware.
It comes complete with a secure, online administrative dashboard to manage the client relationship and includes integrated e-commerce features for online credit card purchases. The administrative dashboard enables on-demand retrieval and review of client documents, includes upload/download features to share drafts and deliver final documents, and provides a secure MyLegalAffairs web space where clients communicate with their attorney.
A virtual law firm site can be operational within 20-30 days from sign-up. The DirectLaw Virtual Law Firm Platform is licensed on a subscription basis and there is no set-up charge. The subscription includes state-specific interactive automated document libraries in wills and trusts, consumer issues, business law, and family law.
About DirectLaw, Inc.
DirectLaw, Inc. based in Owings Mills, MD and Palm Beach Gardens, FL, is a subsidiary of Epoq US, Inc., the leading provider of automated legal forms and documents over the Internet to consumers and small business in the United States. Epoq US operates a large network of automated legal form web sites such as SmartLegalForms.com that are powered by Rapidocs®, its proprietary web-enabled and interactive document automation technology. Rapidocs® was developed by Epoq US's sister company in the United Kingdom, Epoq Group Limited, the leading web-based automated legal forms and legal document provider in the UK, and the sponsor of the consumer-oriented MyLawyer network of law firms.
For more information: See: New Lawyer Program
About Richard Granat
Richard Granat is President and founder of DirectLaw, Inc., and Epoq US, Inc. He is also managing partner for Granat Legal Services, P.C. , a virtual law firm that is the prototype for the DirectLaw Virtual Law Firm Platform. Mr. Granat is also co-chair of the eLawyering Task Force of the Law Practice Management Section, a member of the Section Council of the American Bar Association, serves on the Standing Committee on the Delivery of Legal Services of the ABA, and a fellow in the College of Law Practice Management.
Mr. Granat has been involved in developing innovative legal services delivery systems for over 30 years -- first as President and Dean of the Philadelphia Institute for Paralegal Training, the nation's first paralegal school -- and then as the founder of Automated Legal Systems, Inc., one of the first legal software companies to publish legal applications for the personal computer. He is a member of the Maryland and District of Columbia Bar.
# # #