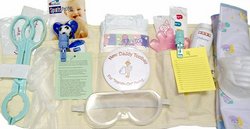 I just received my package and I love the items
Tecumseh, MI (Vocus) September 18, 2009
The Rosemary Company is excited to present an innovative and clever product for new Fathers: the New Daddy Tool Belt. Everyone knows that "Real Men Change Diapers", and with a New Daddy Tool Belt, now any man will have the confidence, and the tools to change diapers like a pro!
First-time Dads can be a little apprehensive about "diaper duty", but with a New Daddy Tool Belt, he'll breeze through the process like a pro. He'll feel downright "manly" with this heavy-duty tool belt, stuffed to the brim with 18 baby products sure to make diaper changing much easier.
This 12-pocket reinforced tool belt includes many novel items designed to make Daddy (and Mommy) smile. He can plug his nose with a clothes-pin, dodge surprises with a pair of plastic goggles, protect those delicate hands with rubber gloves and then dispose of the dirty diaper with handy dandy diaper tongs. The New Daddy Tool Belt also contains diapers, wipes, baby powder, and even a nap schedule for Daddy and baby. Everything he'll need to do the job right!
"I just received my package and I love the items," says one customer from Illinois. "The New Daddy Tool Belt will make a great conversation piece at the baby shower. My husband, the father-to-be, will be laughing about it along with the other guests."
The New Daddy Tool Belt is exclusive to The Rosemary Company, and is truly unique. New and expectant Dads should be honored, too, and the New Daddy Tool Belt is a fun and creative way to say "congratulations"
It's a great product for expecting women to give their husbands, Mothers to give their sons, businesses to give their employees, or men to give other men. When attending a baby shower or buying a gift for a new baby...don't forget Dad (who may
be the biggest baby of all)!
http://www.rosemarycompany.com
About The Rosemary Company:
The Rosemary Company, created by Judy Cheney and Ellen Figueroa in 1995 as one of the first home-based, online businesses, initially specialized in memorial and wedding items. Named for the herb rosemary, a traditional symbol of remembrance, the company quickly expanded to include baby shower products as well as gifts and favors for other celebrations. The Rosemary Company soon outgrew the home office, and moved to a commercial location. In 2004 the two business partners built their own building and warehouse. As one of the pioneers in online shopping, they have earned a reputation as the premiere site for planning bridal or baby showers, as well as other occasions. Today, as in the beginning, The Rosemary Company represents tradition, while also embracing and creating trendy, new, cutting edge products. It offers customers an opportunity to find meaningful gifts, favors and party supplies for an event that will never be forgotten.
ChicExecs PR is an "out of the box" PR company which represents over 70 clients. ChicExecs has created an innovative approach to PR dedicated to helping small-medium business receive media coverage. Our revolutionary automated system is changing the face of PR. For more information visit http://www.chicexecs.com.
Contact:
ChicExecs PR
760.992.9113
http://www.chicexecs.com
###