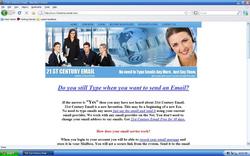 We simply want to make peoples live easier and much better. Speaking is faster, easier and more accurate than typing. I want to take email communication to the next level
(PRWEB) September 24, 2009
21stCenturyEmail.com is a novel Web-based service set to revolutionize composing and sending email. Now anyone can quickly dictate an email and send it to any recipient around the globe. No more clumsy fingers to come between a person and their thoughts. 21stCenturyEmail.com offers a free thirty day trial and a reasonable monthly charge. The future of email has finally arrived.
"We simply want to make peoples live easier and much better. Speaking is faster, easier and more accurate than typing. I want to take email communication to the next level," said Minas Nayev, the forward-thinking 27 year old inventor of 21stCentuyEmail.com.
While the Internet has rapidly evolved, especially in recent years, email is still in the same basic, boring state it was right when it was invented -- lifeless words displayed in only two dimensions. Sure email writers can add smileys and symbols to their messages, but emoticons aren't always appropriate and can't come close to capturing the full range of thought that specch can.
Enter 21stCenturyEmail.com
Just log in to 21stCenturyEmail.com, turn on any microphone and speak naturally into a microphone. Get a secure link to the resulting media file and share that link with anyone using any email provider. Recipients can hear the message anywhere in the world with a simple click. 21stCenturyEmail.com works with both Windows and Macintosh and any browser or media player. There is nothing special for the sender or receiver to download and no special equipment is required.
Best of all, listeners will more clearly understand exactly what senders intend -- every nuance, every spoken shade of emotion and meaning is brought back to life just as the sender intended.
For a free, no obligation 30 day trial, visit http://www.21stcenturyemail.com/. It takes less than a minute to create an account.
Contact
Minas Nayev
323-786-0506
###