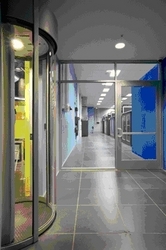 This Technical Resource Center is precisely the type of partnership and investment we need to better support existing employers in our community, while also attracting emerging businesses to this region
Plymouth, Mich., (Vocus) September 18, 2009 - Wayne County Executive Robert A. Ficano in partnership with Secure-
24 officially opened the new Wayne County Technology Resource Center during a special ribbon-cutting ceremony for the community on August 25th.
The new 18,000 square-foot data center, located in Plymouth Township, was made possible through a unique private/public partnership between the county and Secure-24, a leading provider of managed Information Technology hosting and disaster recovery services.
The mission of the data center is to offer and deliver critical IT services to all 43 communities in Wayne County, as well as creating capacity for private business IT services. Wayne County communities and businesses will reduce IT operational costs and the new facility will enhance the technical attractiveness of the region. The data center and accompanying services also are expected to generate more than 250 high-tech jobs in southeast Michigan.
"This Technical Resource Center is precisely the type of partnership and investment we need to better support existing employers in our community, while also attracting emerging businesses to this region," said Ficano. "What Secure-24 has created is a solid technical foundation for high tech companies looking to expand within or move into southeast Michigan, helping to create new jobs."
Secure-24 has invested an initial $5 million to build the new facility and expects its total investment to exceed $10 million over the next several years.
"Mr. Ficano and the administration of Wayne County played a significant role in our decision to make this investment here in Michigan," said Matthias Horch, CEO at Secure-24.
As a leading expert in IT security, Horch co-founded Secure-24 in 2001, recognizing the ever increasing reliance of businesses on complex software systems such as SAP®, Oracle EBS®, JD Edwards®, and PeopleSoft®, and the growing need for managed hosting of those business critical IT systems. Today, Secure-24 provides customized managed hosting and IT infrastructure outsourcing solutions to industry and government clients across North America and around the globe.
Recently named to Inc. Magazine's INC500 list for the third consecutive year, Secure-24 is recognized as one of the fastest-growing private companies in the U.S. and a leading IT services firm.
About Secure-24, Inc. (http://www.secure-24.com)
Secure-24 (Southfield, Mich.) provides managed hosting, disaster recovery and managed services for the mission-critical IT applications of industry and government. A deep knowledge of ERP systems, industry leading infrastructure and state-of-the-art data centers allows Secure-24 to deliver highly available and scalable solutions to organizations that need to meet rigorous compliance metrics (i.e. SAS 70, HIPAA, SOX, GLB, ISO, FFIEC). Secure-24 is a certified SAP Hosting Partner , delivering managed SAP hosting and SAP outsourcing services, and a certified Oracle® Partner for Oracle hosting solutions.
About Wayne County, Mich. (http://www.waynecounty.com)
Wayne County is located in southeastern Michigan, encompassing approximately 623 square miles. It is made up of 34 cities, including the city of Detroit, nine townships and 41 public school districts. Its population of approximately two million makes it the most populous county in the State of Michigan and the 13th most populous county in the nation.
---
Cheryl O'Brien, Secure 24 | Office: 248-784-1021 x226
Vanessa Denha Garmo, Wayne County Press Secretary | Office: 313. 967-3891 Cell: 313.213.5274
# # #